Fall 2022 provincial and territorial tiered energy code adoption landscape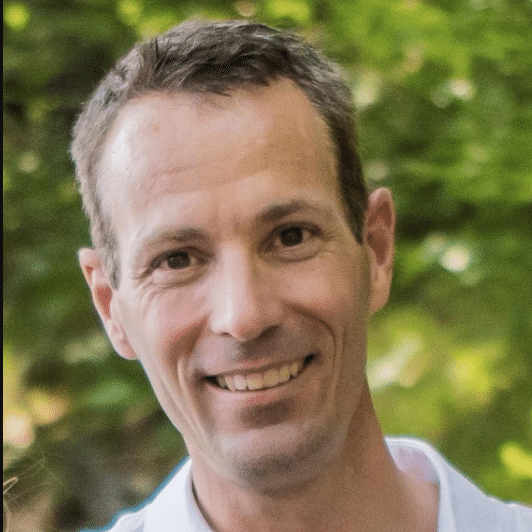 Kevin Lockhart
Efficiency Buildings Lead, Efficiency Canada
Blogs | Buildings | New Buildings | News | Provincial Policy
Provincial and territorial governments have shown great leadership in implementing the National Energy Code for Buildings 2020 and the National Building Code 2020.
Municipal governments have a key role to play too.
A look at how provinces and territories are preparing for the adoption of the 2020 model codes, and the federal supports designed to accelerate adoption of the codes' upper tiers.
In 2016, provinces and territories across the country signed on to the Pan-Canadian Framework on Clean Growth and Climate Change. This marked an important step that signalled their commitment to reaching net-zero energy ready (NZER) standards by 2030, or sooner. More recently, provincial and territorial governments agreed to harmonize their building codes with national regulations through the Construction Codes Reconciliation Agreement. This agreement saw the provinces and territories adopt and implement the 2020 National Model Codes framework within 24 months of the agreement's publication. Since the release of the 2020 model codes in March of this year, these jurisdictions have approximately one and a half years to adopt and implement Canada's first tiered codes.
Below, we dig into how each of the provinces and territories are preparing for the adoption of the 2020 model codes. We also take a look at the federal supports designed to accelerate adoption of the codes' upper tiers.
Where we stand: Provincial and territorial efforts to adopt the 2020 model codes
In Canada, model codes, such as the 2020 model codes, have no force in law until a jurisdiction adopts them. This responsibility lies with provincial, territorial and, in some cases, municipal governments. As such, adoption can happen differently in different jurisdictions. For instance, provinces can create their own codes or adapt the national model codes, amend the codes to reflect jurisdictional priorities or simply adopt the codes.
Since the release of the 2020 model codes, we have been monitoring official announcements, communicating with provincial and territorial officials, and working with our Action on Building Code council members to track how provinces plan to implement the National Energy Code for Buildings 2020 (NECB 2020) and the National Building Code 2020 (NBC 2020). We asked key questions about how each jurisdiction intended to implement the tiered codes, what tier they intend to implement, whether they have a timeline for reaching the upper tiers by 2030 or before, and if they intend to allow municipalities to implement a tier above the provincial or territorial standard.
The table below represents our best efforts to make this information available to all those in the buildings sector.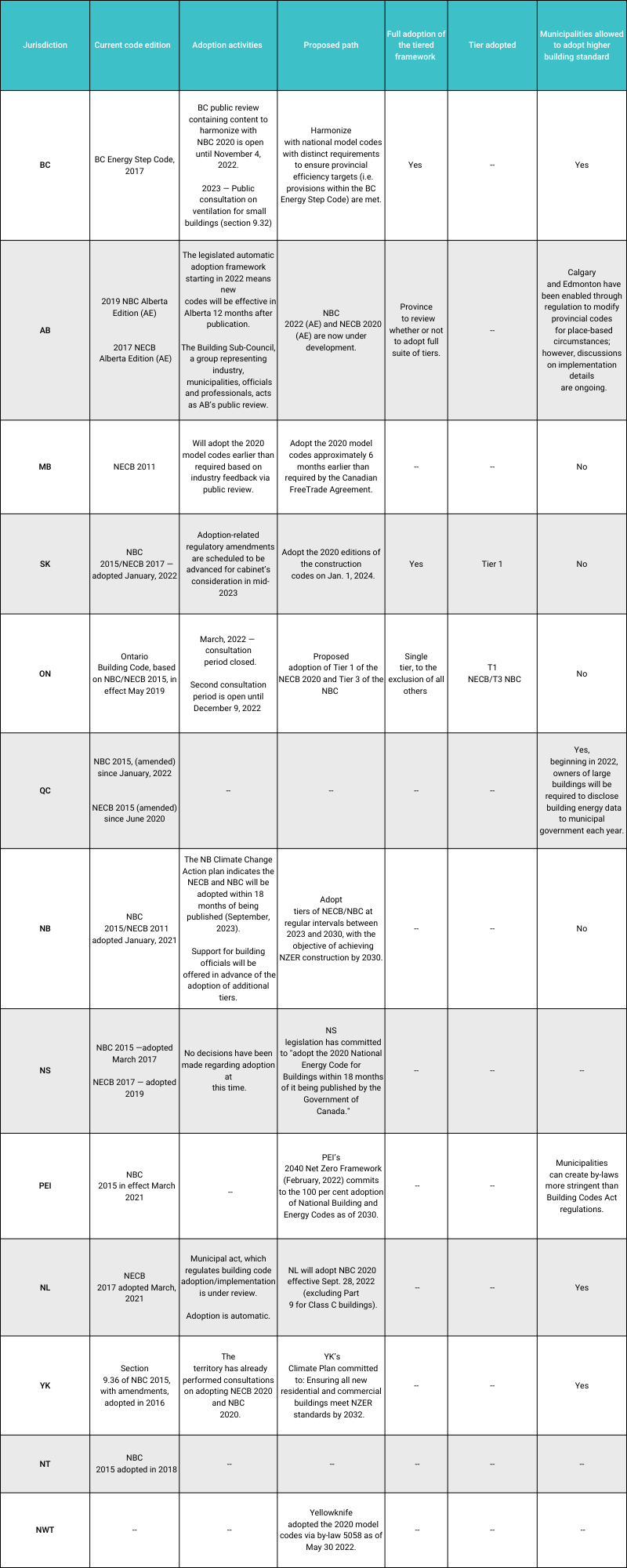 Table updated on October 27th, 2022.
At this time, the only jurisdiction to adopt the 2020 model codes is the City of Yellowknife. Manitoba completed their initial public review period this past August and stated their intentions to adopt previous iterations of the model codes. However, based on feedback received in the public review the province recently announced it will now adopt the 2020 model codes six months earlier than required under the Canada Free Trade Agreement. Ontario, now entering its third and final public review, open until December 9th, has proposed the adoption of a single tier of each of the NBC and NECB, to the exclusion of other tiers. British Columbia recently announced that the first round of its public review will be open until November 4th.
As the remaining provinces and territories assess the capacities of their buildings sectors, and the feasibility of increasing the stringency of their existing building code standards, it is vital that they consider the adoption of an ambitious tier that sets a path for reaching the NZER standard over the coming eight or fewer years. If provinces don't make active use of the performance tiers, the 2020 codes might not make a substantial difference in their efforts towards net zero emissions. The code's bottom tier isn't much more advanced than the latest model building codes already in place. Worse, provinces could water down the stringency of existing building code standards in their jurisdiction by only partially adopting the federal codes.
Provinces and territories can seize this unique opportunity to accelerate building performance by making the full suite of tiers available and accessible, adopting a tier that matches the capacity and resources of their local market, and providing leading municipalities the flexibility to adopt a tier higher than the provincial base requirements. They can also go a step further and amend the building code to introduce energy conservation measures such as mandatory airtightness testing, or measures to address greenhouse gas emissions from buildings.
Ambition today will help provinces, territories, and municipalities prepare their markets and ensure that government agencies, businesses and consumers avoid a rushed and costly implementation of NZER standards before 2030.
These governments are not alone in their efforts. Recognizing the role the buildings sector must play in reducing energy use and emissions — both as a sector and as part of the work to accelerate economy wide emission reductions —  the federal government has ramped up support for accelerating code adoption in 2022.
Federal supports for provincial and territorial code adoption
The federal government has a legislated commitment to reach net-zero emissions by 2050, and to meet a 2030 goal of reducing emissions by almost 40 per cent from 2005 levels. As a first step, the 2020 model codes tiered framework will help meet this goal as it sets all new construction on a path to NZER standards by 2030, or sooner.
Building operation energy use is, of course, only one consideration. There is an urgent need to cut both operational and embodied emissions in new and buildings, while also addressing issues such as capacity concerns and affordability. However, the tiered framework can accelerate progress in these areas as well.
There is an opportunity to layer both operational and embodied emissions onto the tiered framework. This would also see emission reduction requirements ratchet up at each tier. And, to address the latter considerations, one of the core functions of tiered codes is to send long-term signals about what future regulatory requirements will by to stakeholders at all levels. This, in turn, allows the building sector time to invest in training staff with new skills, on processes and in new practices that allow its members to construct NZER buildings at scale.
The federal government has initiated several activities specifically designed to accelerate the adoption of the upper tiers of the 2020 model codes among provinces and territories. These activities include the Emissions Reduction Plan, released this past March, that saw a significantly accelerated timeline for the adoption and enforcement of NZER building codes. The plan outlined energy savings for new commercial and residential buildings. These savings would be consistent with achieving performance levels between the top tier NZER standard and the performance tier just below it by 2025.
Also included in the Emissions Reduction Plan is the development of the Net-Zero Building Code Acceleration Fund.  This plan aims to accelerate the adoption and implementation of the upper tiers of the 2020 model codes, and to support compliance  . Expected to launch this fall, this fund will be available to provinces and territories, municipalities, Indigenous governments and organizations, and other national and non-governmental organizations. Consultations for this fund emphasized the need to support authorities to engage their jurisdictions in capacity building, training and the development of code compliance tools.
More recently, Natural Resources Canada introduced the Towards Net-Zero Homes and Communities funding pool, which includes a stream for activities that will facilitate the adoption and implementation of the 2020 model codes.
The time is now
The end goal of these tiered codes is to raise the floor of building energy performance, while also establishing a clear and predictable path towards harmonized national NZER construction standards. As such, it is crucial that provinces and territories swiftly and effectively adopt the highest tier possible.
Ambitious action on the part of Canada's sub-national governments will ensure that all stakeholders in the buildings sector — including governments, industry and the workforce — have a clear and stable regulatory path forward, one that allows them to plan for future code requirements while investing in Canada's net zero future.