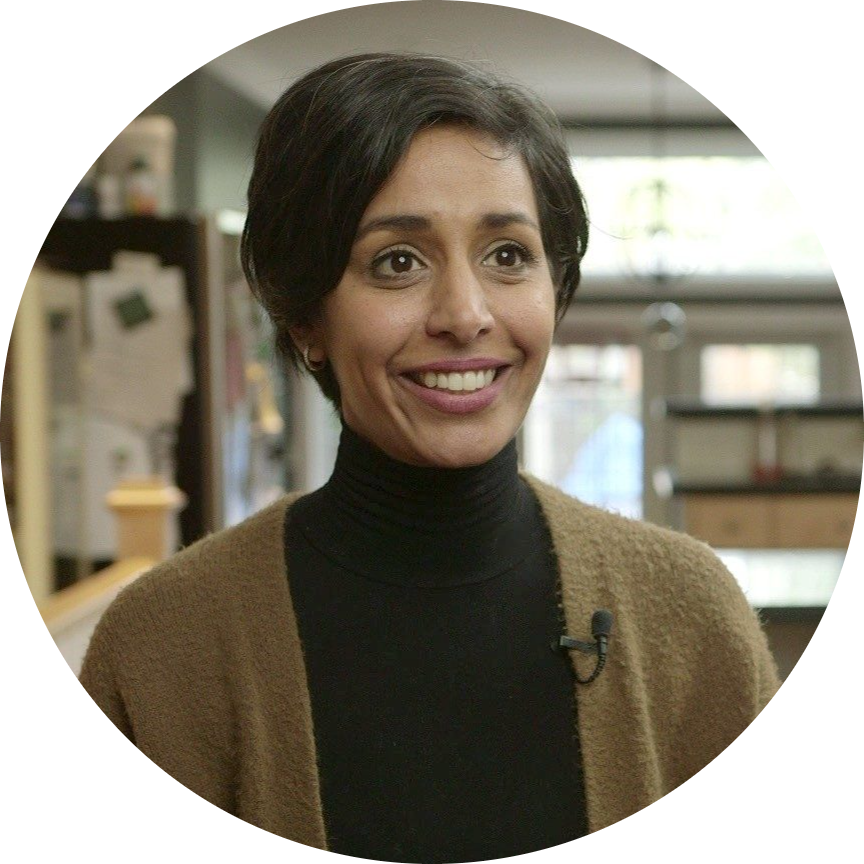 FATIMA CRERAR
Director of Impact and Sustainability, ecobee
Toronto, Ontario
As the Director of Impact and Sustainability at ecobee – the company that invented the wi-fi enabled smart thermostat – Fatima is a true advocate for its products, its impact and the growth of the energy efficiency industry.
Fatima's role is to hold the company accountable for its social and environmental commitments and work with the leadership team to understand areas of opportunity. "We help people to be more energy efficient at home and that's terrific but as a business we have a whole impact we're accountable for and a lot we can do to support the transition to stronger, greener communities. My job is to understand and activate on that potential in a way that drives our business."
Fatima's passion has always been about protecting the environment. In University, Fatima found herself gravitating towards earth sciences. "That's where I found my groove. Understanding how the world around us worked – from water, to soil, to the atmosphere. Then I took a course in global warming and it blew my mind. It combined my desire to work with people and help the environment. I could see the human impact."
From that moment forward, Fatima was committed to understanding how people—and our everyday lives—impact the environment. Starting in the not-for-profit world allowed Fatima to learn about the value of reaching the public, working with diverse partners and across sectors. More recently, in her role at ecobee, she took that experience in public engagement to the for-profit side, an opportunity she never foresaw when her career started.
"When I started my career, energy efficiency was a torch carried by NGOs and utilities. Then rose companies and brands like ecobee, experiencing huge year over year growth. Today over 400,000 Canadians work in energy efficiency, with no signs of slowing down. When you're helping people improve everyday life, there is only opportunity."
The emergence of the clean economy is evidenced by businesses like ecobee that are addressing the problems and solutions to environmental degradation. "I wanted to continue working on the things I believed in. I wanted to stay on the front line. But I wanted greater reach and more assets to leverage. My motivation was and still is to help advance environmental change. At ecobee that means showing millions of customers how they can take green actions at home, as well as ensure that as a business we manage our impact and empower employees to live out our social and environmental values. We are developing technology and services that adapt our homes and communities in a changing world. There's a lot to do."
So, how can energy efficiency keep growing as a priority? Fatima says it's about recognizing its role in everyday life. "Simpler, healthier and more affordable everyday life is something we are all after. When you recognize that investing in technology that enables cleaner, greener energy truly improves everyday life for people, that will always be a priority."
Fatima is optimistic about the future and believes the efficiency sector will only continue to get bigger over time. 
Advice on Entering the Energy Efficiency Sector
As a female and a Black female, there are always going to be obstacles. That doesn't mean, however, that I didn't face them head-on. I like a challenge. I welcome it, actually. It motivates me. So for any women out there who are BIPOC or women in general, we are dominating a very male-induced industry.
Where things are trending in workforce development is, upskilling the soft skills that you don't have. We've recognized that it's not just learning the technical stuff, you have to give them the management skills and the business skills and the stakeholder engagement skills.
The great thing is that with this sector, there is such a need for workers that they are offering courses to everyone. That's really opening up for people. You don't need to go back to school necessarily. Go do a degree or diploma. You can take like little courses at a time to upskill yourself and make yourself relevant.