We want YOU to make building codes work for climate action
Our new Codes4Climate toolkit can help you be an advocate for a resilient and efficient built environment in Canada
The places we live, work, play and gather will play a critical role in Canada's transition to a net-zero economy
Building energy codes that reduce energy use and emissions in new buildings are one of the key tools we can use to avoid locked-in inefficiencies and emissions that place Canada's climate neutrality objectives at risk
By starting today, advocates can build grassroots momentum for the adoption of the upper tiers of the proposed 2020 model codes in their province or territory
Over the last several decades, the Canadian buildings sector has seen significant progress in reducing energy use. Nonetheless, energy demand and buildings related emissions are expected to rise. Over the next 40 years, if left unchecked, this increase in buildings related emissions could account for half of the remaining 2°C carbon budget.
This means we need to accelerate our efforts at increasing building energy performance today. We need to ensure we construct each new building to the highest energy standards and building energy codes are one of the key tools that we can use to act swiftly and purposefully to avoid locking in long-term inefficiencies. Building energy codes, like the proposed 2020 national model codes, have the potential to ensure that every new building constructed is a long-term asset that delivers a host of benefits to both the occupants and community.
Introducing Codes4Climate
To help encourage the adoption of better building codes, Efficiency Canada has developed Codes4Climate: A building code advocacy toolkit. The toolkit is intended to serve as both an introduction into building codes for municipal and climate advocates and a starting point for their advocacy efforts. With the goal of creating a wave of building energy code adoption advocates, the toolkit delivers a wealth of information and tools related to building code adoption and other paths that will increase the performance of their local building stock.
By starting provincial/territorial adoption efforts now, we can build the grassroots momentum needed to push provinces/territories to adopt the upper tiers of the proposed model codes and to advocate for amendments related to increased energy efficiency. In doing so, we can strengthen the energy performance requirements of building energy codes as they are adopted in each jurisdiction.
Why building energy codes?
Building energy codes are one of the near-term transformational actions local governments' can use to achieve their climate change targets. Heating and cooling accounts for the largest proportion of energy use and emissions generated in Canadian buildings and building energy codes can help cut energy waste while delivering low-carbon buildings that improve the health, resilience, and livability of the community.
Climate advocates, municipal advocates, and local organizations can use the Codes4Climate toolkit to demonstrate the importance of advanced energy codes as a way to meet their community's social, environmental and climate ambitions.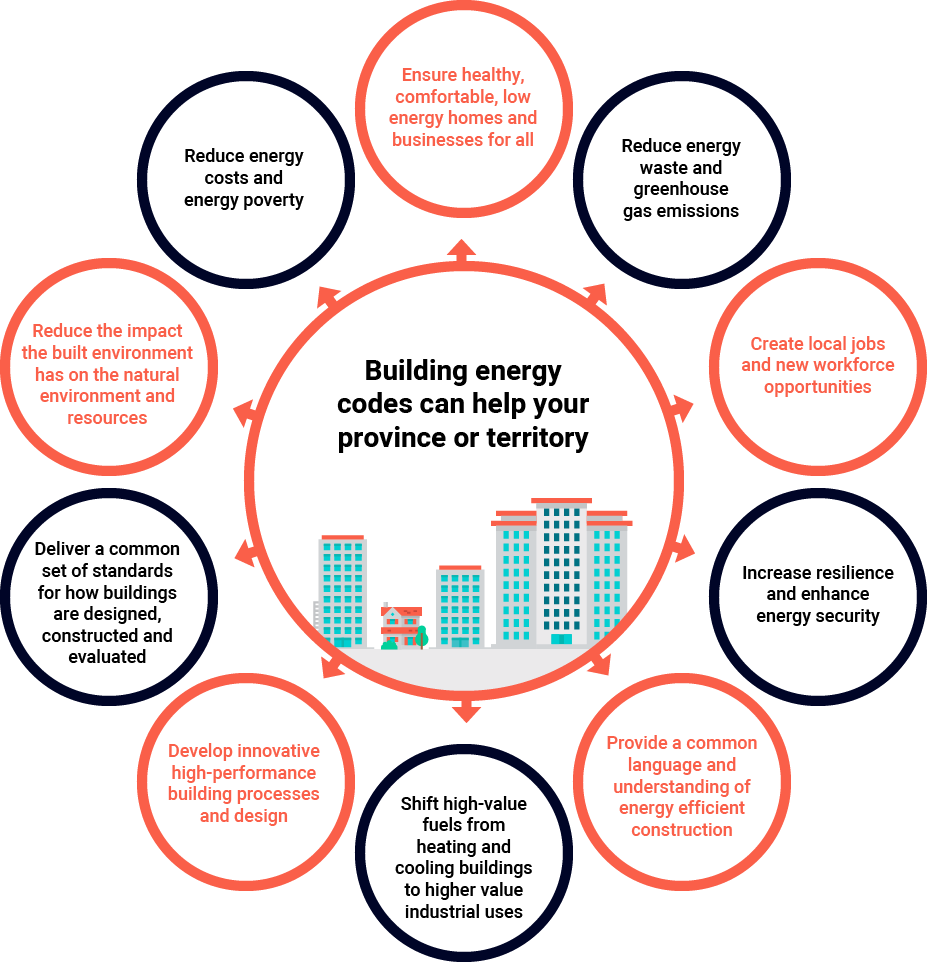 How can Codes4Climate help building code advocates?
Codes4Climate sets out to build support for building code adoption by explaining what building codes and building energy codes are, and the role they can play in achieving climate neutrality. The toolkit also offers ways for advocates to get involved in their provinces or territory's building energy code adoption efforts, as well as how to build a network of like-minded supporters.
Codes4Climate can help building advocates in the following ways.
1. Advocate for better building code adoption
The Codes4Climate toolkit outlines how advocates working in municipalities – as elected officials, climate activists, or those in the field – can use building energy code adoption to capture the many benefits of better building energy performance. The toolkit outlines how advocates can build networks calling for the timely adoption of the upper tiers of the proposed 2020 model codes. The toolkit also outlines how advocates can call for both adoption of the upper tiers and amendments to the model codes during the adoption process to increase their stringency.
2. Help Canadian municipalities lead the charge.
Over 500 Canadian municipalities have declared a climate emergency and the buildings sector is a critical area by which these municipalities can reduce emissions and take immediate climate action. Leading municipalities have already recognized the need to optimize building energy efficiency and strong building energy codes can help them do so at scale. In doing so, municipalities can drastically reduce greenhouse gas emissions and join the global wave of local actors set on achieving net-zero emissions by 2050.
Codes4Climate offers immediate actions municipalities can take to accelerate the uptake of advanced construction standards (green development standards), zero-carbon heating and hot water systems, and embodied and operational carbon measures. This includes actions and strategies to advance more stringent energy standards and building energy code adoption in their jurisdiction.
3. Connect buildings as a tool for climate action
The energy our buildings consume and emissions they produce are affecting our changing climate. A massive reduction in greenhouse gas emissions is needed to mitigate the future impacts and costs of an increase of this scale. The buildings sector has a large role to play in achieving these reductions.
Codes4Climate outlines the role of building energy performance as a tool for climate action and connects buildings to other municipal actions intending to draw down emissions.  Framed in this way, advocates can help their municipality better prepare for the adoption of the model codes in the coming years. For example, developing grassroots building energy code campaigns in each jurisdiction that includes municipal officials, municipal staff, climate activists and the buildings sector.
4. Build awareness about building energy codes and encourage others to get involved
Canada's proposed 2020 model codes introduce tiered codes to each province and territory. This means provinces, territories must be prepared to ensure that their jurisdiction have the information and education, workforce training and compliance training needed to successfully implement the highest tier possible for their jurisdiction.
Advocates will play a key role in these preparations as they leverage their networks to position building codes as a primary tool in combating climate change. This eventually includes their participation in the model codes development system. This will help balance the interests of those seeking to maintain the status quo with those seeking to accelerate building performance.
Leverage the toolkit and get involved
Codes4Climate is a tool for advocates to learn more about Canada's model codes, how model codes become adopted by their provinces or territories, and how to make the case for better building codes adoption.
Codes4Climate also offers several ways for you to get involved. You can use the Codes4Climate toolkit to share information with peer networks and build awareness of the importance of building energy codes. You can also use Codes4Climate to learn how to mobilize a network of building code advocates and encourage your provincial and territorial leaders to lay the groundwork for building code adoption.
Get involved in Efficiency Canada's campaign for building code adoption and connect with your province or territory's Action on Building Codes Council member. Together, we can accelerate the adoption of advanced building energy codes in Canada.