Building for Tomorrow
Making Canada's new housing supply high performance and climate ready
Canada is facing a housing crisis.
Estimates from the Canada Mortgage and Housing Corporation
(CMHC) suggest 5.8 million housing units need to be built by the end of 2030 to restore housing affordability. That's 3.5 million more units than the current pace of new home construction.
Building energy use is the third largest source of greenhouse gas emissions in Canada. New buildings constructed today will last for half a century or more. If we build 5.8 million units using today's building standards, it will lock in approximately 12.9 megatonnes of greenhouse gas emissions each year those buildings are in operation.
New research from Efficiency Canada shows that how we build matters. It studies the impact of building codes during this anticipated increase in new housing construction. The findings highlight a unique opportunity to tackle the twin challenges of housing and climate while increasing household affordability.
Our key findings on housing and climate
Share the findings on social media with the hashtag #HousingandClimate
Key Finding #1: If all provinces adopt the most ambitious tier of Canada's building codes — net zero energy ready standard — it will produce 20% fewer emissions per year.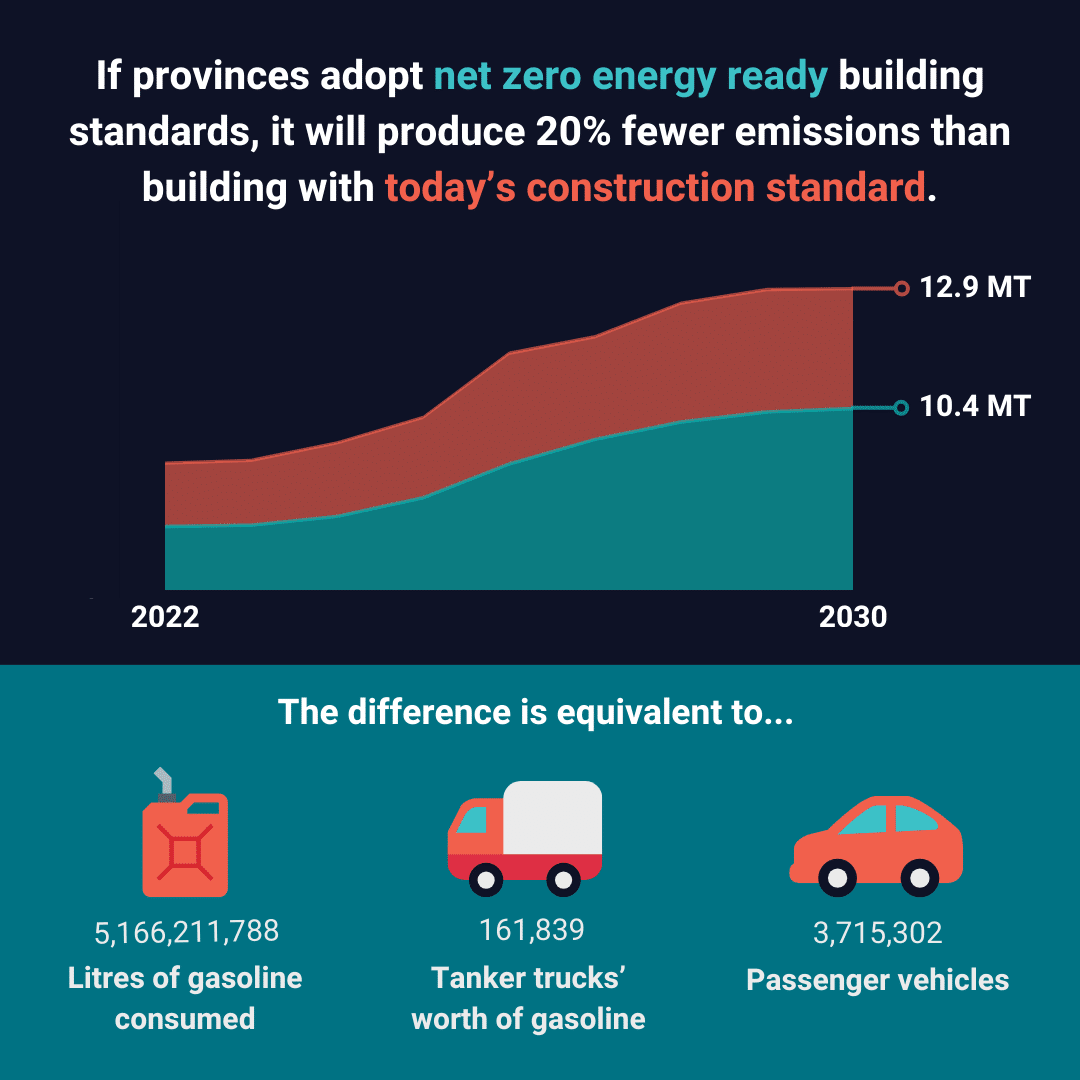 Ensuring energy-efficient and climate-resilient features are integrated into all newly constructed housing units can be accomplished by expediting the implementation of higher tiers of the building codes in each province and territory.
Provinces and territories have agreed to reach net-zero energy-ready standard by 2030. A building measuring up to this standard is energy efficient enough to meet its annual energy needs with the addition of on-site renewables or off-site clean energy.
However, adoption of the tiered codes has been limited.  As of yet, only British Columbia has adopted and implemented an upper tier (tier 3) without restrictions.
Key Finding #2: If we reach net zero energy ready standard by 2030, it could reduce household spending by $3 billion per year.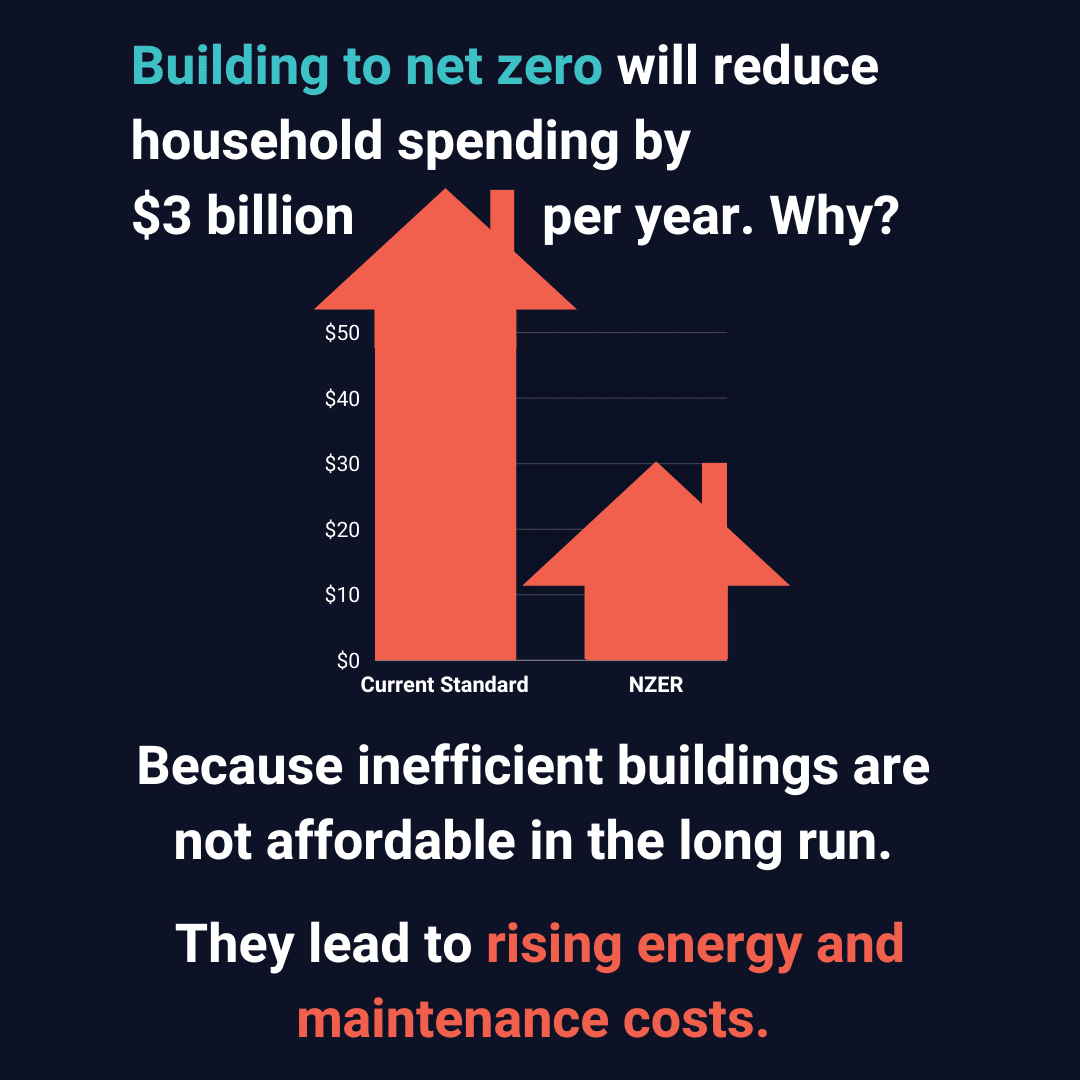 Inefficient buildings are not affordable in the long run. They lead to rising energy and maintenance costs. The key to affordability is integrating energy-efficient and climate-resilient features into housing designs.
Both building owners and occupants will be able to achieve long-term affordability through lower energy and maintenance costs. Well-designed, insulated and air-sealed homes also protect people from extreme heat, forest fire smoke and other serious weather events associated with climate change.
Key Finding #3: If we build to a net zero energy ready standard and implement full electrification starting in 2025, Canada can reduce emissions by ⅔ and reduce household spending by $5 billion per year.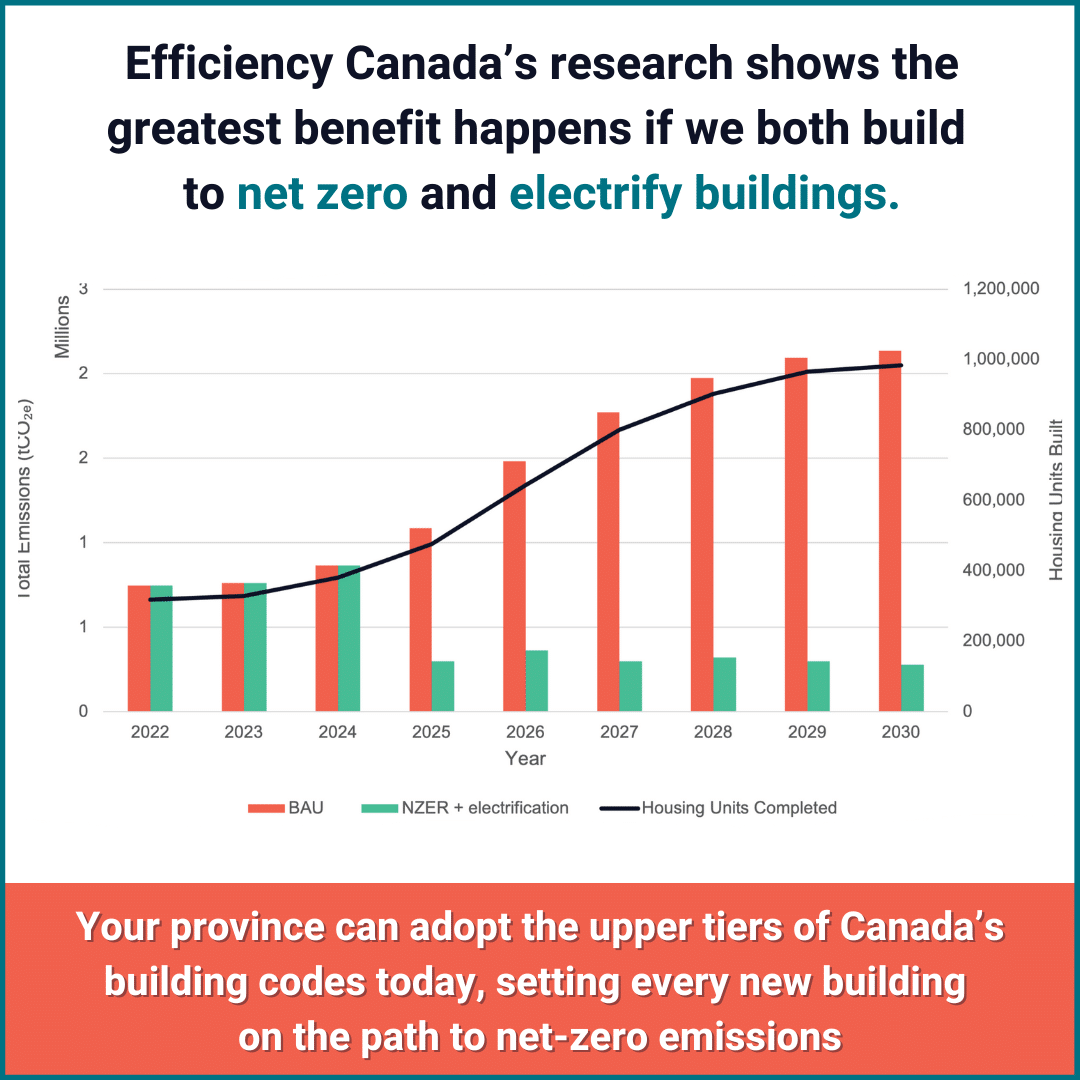 The greatest benefit happens if we both build to net zero and embrace building electrification.
Building electrification—using electricity or other zero-carbon fuels for space and water  heating and cooking—offers an emissions-neutral path for newly built residential housing. Electrification can also improve comfort and air quality leading to greater health for building occupants.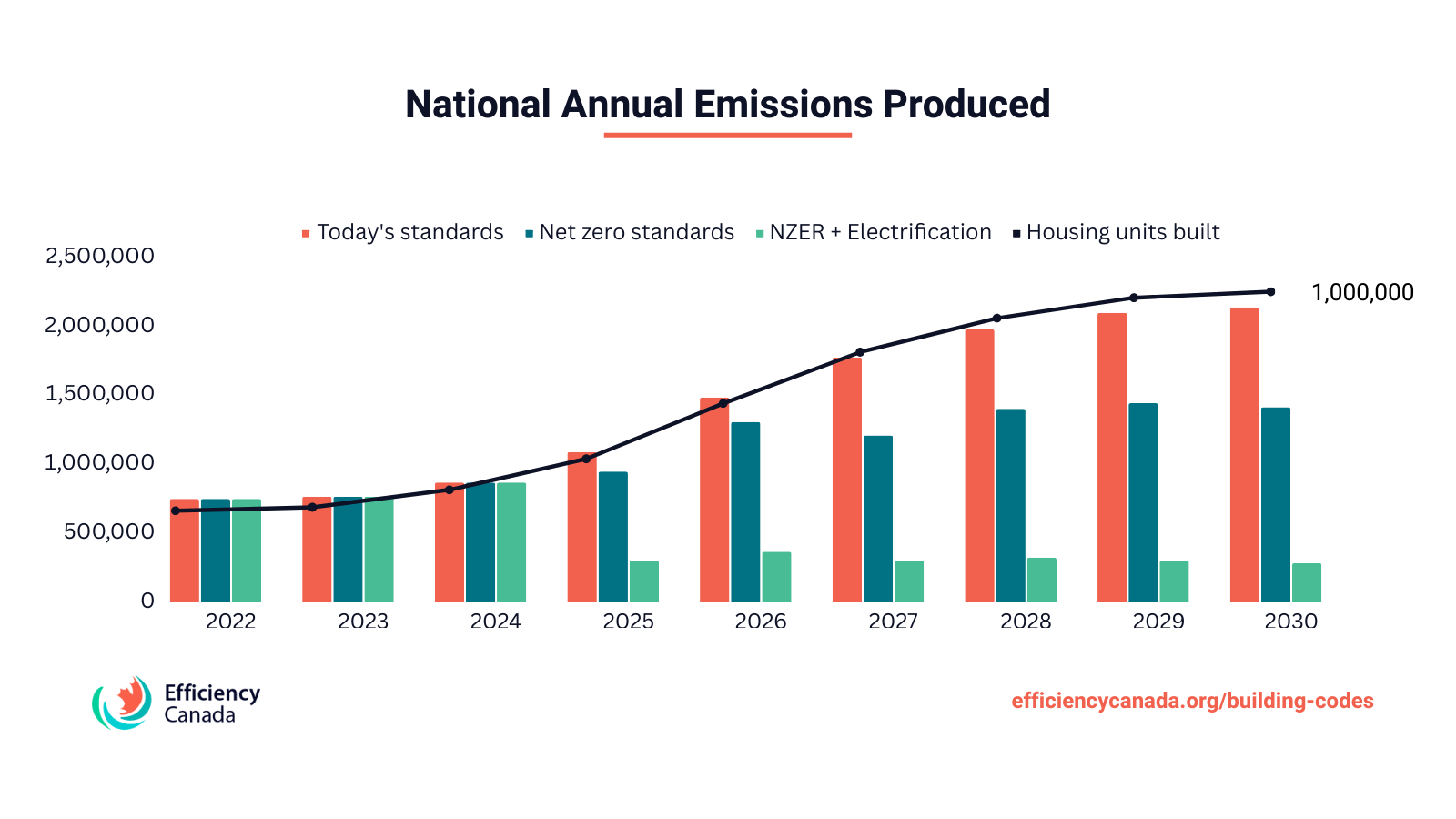 Constructing new homes sustainably—as we must if we are to hit our climate targets—brings with it economic opportunity. Canada can lead North America's construction sector into a new greener era, one defined by novel building materials, smart building systems and the rapid deployment of low-carbon heating and cooling.
In addition to the buildings themselves, we'll need to construct new supply chains, skilled workforces and critically a retrofit economy to support the transition.
Provincial and territorial governments have the opportunity to address the housing and climate crises right now. By adopting the highest tier of Canada's Building Codes, they can set every new building on the path to net-zero emissions.

Download and share full infographic
We need to build 5.8 million new homes in Canada by 2030 to restore housing affordability. How we build those 5.8 million homes matters.
We can build them to today's standard or we can move upward through the tiers of the 2020 National Building Code and National Energy Code for Buildings to reach the net zero energy-ready standard by 2030.
Going a step further, if we build homes to a net-zero energy-ready standard by 2030 and implement full electrification of all new housing units starting in 2025, we could reduce emissions by 2/3rds from today's standards.
This report is part of a package of GHG emissions modelling submitted to the
Taskforce for Housing & Climate
for the purpose of better understanding the three biggest sources of GHG emissions associated building 5.8 million new homes by 2030: building energy performance; embodied emissions from construction materials and supportive infrastructure; and land use planning decisions. Access the
full package of research here
.
Receive information and tools
Never miss an update on building codes and gain access to tools that will help accelerate change in your community.