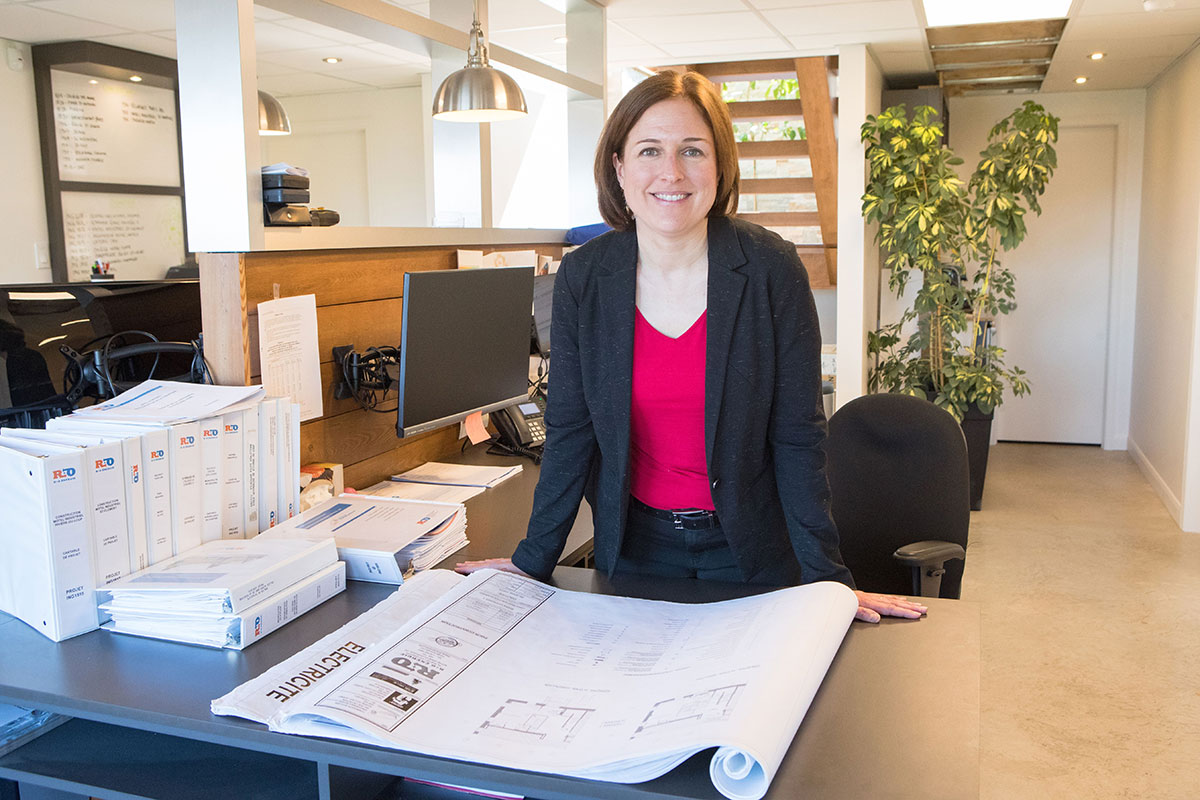 Vice President, R+O Énergie
Notre-Dame-du-Portage, Québec
Making a difference, one building at a time
When the opportunity arose to take the reins at R+O Énergie, a firm specializing in energy efficiency, Catherine-Anne Renaud was unable to resist. In partnership with her spouse, this engineer by training decided to take over the thriving family business, based in the Bas-Saint-Laurent in Quebec, from her father-in-law.
Catherine-Anne received her degree in engineering with a specialization in environment from Polytechnique Montréal. "Before I even arrived on the job market, I was very aware of the need for environmental protection. Those were the issues that really interested me."
After eight years working in the manufacturing sector in Montréal, she moved to Notre-Dame-du-Portage in 2010 to become vice-president of R+O Énergie and dedicate herself to improving the energy efficiency of buildings. Schools looking to replace their oil heating systems were beginning to seek out the company's services.
"We're making a difference in the community on both an economic and an environmental level by showing building owners how their long-term choices can be both economically viable and ecologically beneficial."
One of the projects Catherine-Anne is most proud of is the design of the mechanical systems for the curling club in Rivière-du-Loup. This building is a model of energy efficiency — the heat released by the cooling systems is recovered in the heating system. The operation of the ventilator pumps is also controlled, as is the recourse to drinking water.
In 2011, R+O Énergie won the Annual Prize for Excellence and Leadership from the Canadian GeoExchange Coalition for the installation of a geothermal system at the École Polyvalente La Pocatière. The building's energy consumption has since dropped by about 60%.
"This project was made possible by teamwork and the personal and financial investment of the building managers."
While the projects she takes on may seem risky at first glance, Catherine-Anne Renaud remains convinced that in every building, there is an opportunity to eliminate polluting emissions and reduce energy consumption. As a businesswoman, she is motivated by the difference her company can make in the energy transition, a movement that is already well underway in Quebec.
"The benefits of energy efficiency will only continue to snowball as the serious effects of climate change are felt and energy costs continue to rise. There is a lot of promise in the energy efficiency sector."