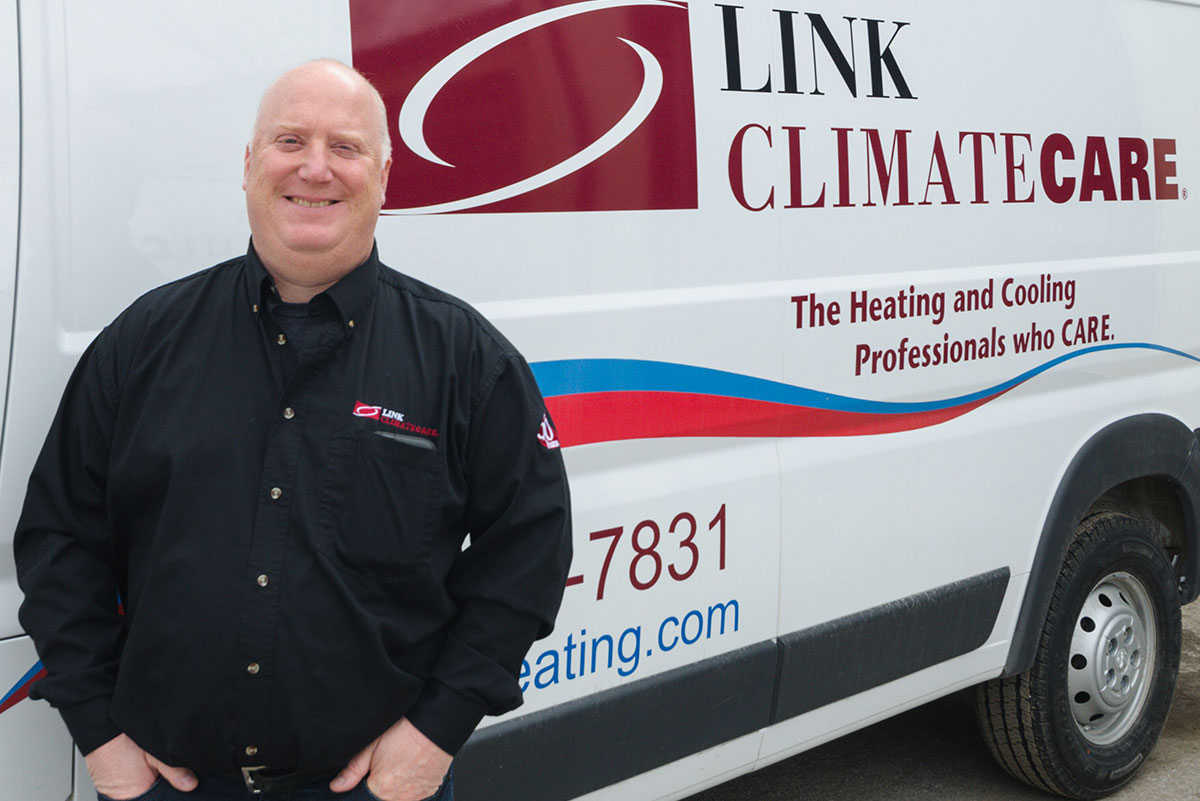 Running the family business, reclaiming the earth's energy
Chris has worked in the HVAC (heating, ventilation and air conditioning) sector since the age of twelve when he started working summers at his family-owned business. Summers eventually turned into full-time work, and his role transitioned from oil burner technician to refrigeration mechanic to management. After 30 years in the business, he's now an owner and general manager of Link ClimateCare.
A big part of Chris' business revolves around energy conservation and geo-thermal heat pumps. The shift from oil to geo-thermal came when his family realized just how efficient and affordable it could be for people in their community. "When we reclaim the energy from the ground, we help lower people's reliance on supplied energy. And people like that – they feel like they have more control and like it's the right thing to do." Even decades later, Chris likes to keep in touch with his customers to ensure his systems are operating efficiently.
Chris' family business was one of the first contractors in the geothermal heating space. As an early adopter, his firm helped lay the groundworks for the industry, and that came with its own challenges. "I think initially there was a learning curve because it was new field. We had to teach ourselves a lot of the best practices – we were pioneers in the business." Today, the company maintains 1,000 geo-thermal heat pump systems in homes and businesses in Beaverton and Lindsay.
Still, Chris realizes that a lot of the factors that impact people's heating and cooling choices are outside of his control. Fluctuating energy costs and fluctuating policies, particularly the presence or absence of rebates, can drive his business up…and down. "We see a big influx when people are receiving rebates or credits towards heat systems. This really impacts the volume of our business. We're a small company, with about 20 employees. When there's an efficiency incentive, we could have 30 employees. When the incentive goes away, we could go down to 10 employees. The unpredictability is the biggest challenge."
But Chris is nonetheless hopeful about the sector, and he's seeing more people driven to his business both for the savings and the environmental benefits. These days, Chris is focusing his attention on mentoring the future generation of workers.
"I find it very rewarding training young technicians – being able to bring in new grads from high school, train them and offer them opportunities. We're in a rural area, and there's not much industry here."
When thinking about the future of energy efficiency in the HVAC industry, Chris believes that there will be big changes to come. "I think it's going to have a major impact. Reclaiming the energy in the earth is going be a better investment in the long-run."