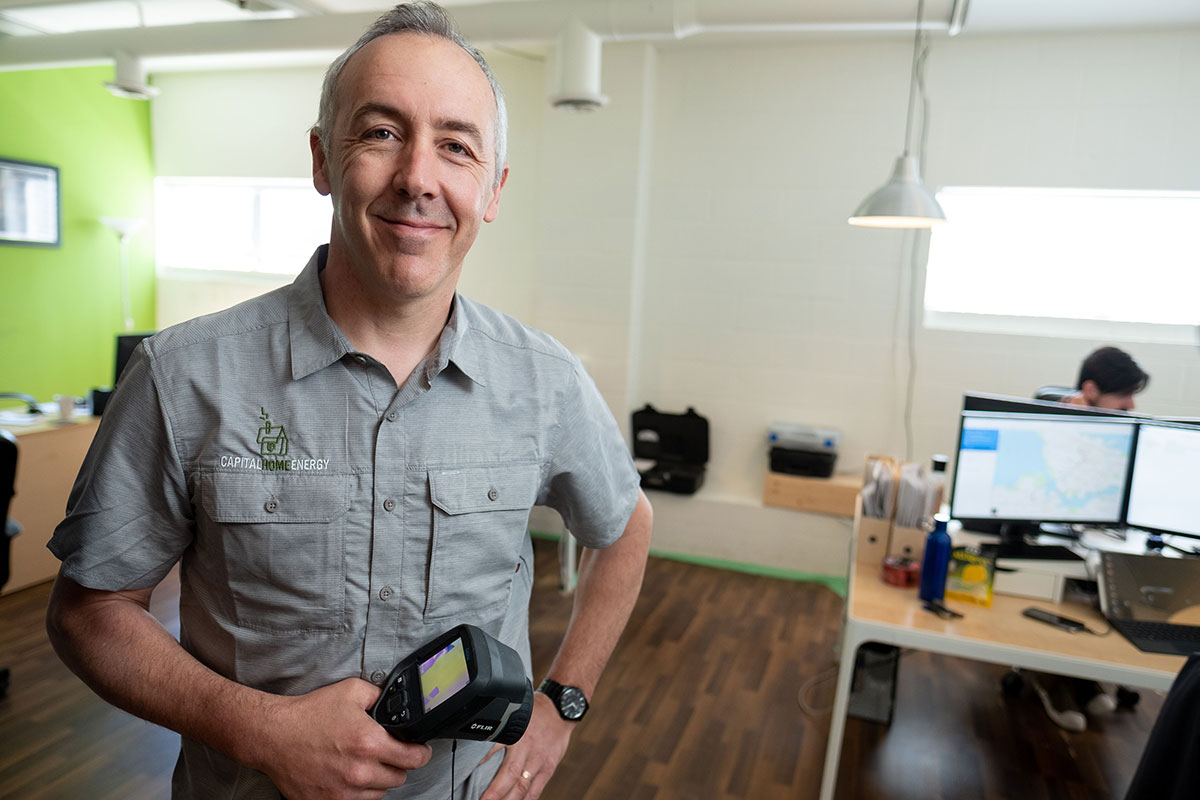 Owner, Capital Home Energy Inc.
Vancouver, British Columbia
Improving lives and helping a whole industry adapt
Luke spent most of his early career in the construction business. After years of seeing accumulated waste on construction sites and inefficiencies in the way houses were being built, Luke wanted a change. So, he decided to shift his career and his attention towards sustainable building.
"I wasn't sure how to get involved, but I wanted to do something different and something good. In a way, energy efficiency kind of

chose me."
He started his new path as an energy advisor for a consulting firm in Vancouver, B.C. A year later, he started his own energy design firm, called Capital Home Energy. It felt like a natural progression for Luke. Now, Capital Home Energy works primarily on single family homes – conducting energy audits and advising building code compliance to help builders and home owners alike build and live in more energy efficient homes.
Ten years into the business, Luke has met with countless homeowners and has tested over 5,000 homes. "All the different people I've met over the years and the success stories are the things that keeps me going in the morning." While Luke has helped many homeowners – both new and existing – save substantially from a budget standpoint, Luke knows that it's about more than that. It's about building healthier, more durable and more comfortable homes for people and their families to live in.
For Luke, this mission is more than upgrading heating systems and insulation: "What sometimes gets missed about energy efficiency is that it's not just about building air-tight homes.  It's about making the whole building industry more adaptable." This is one of the main reasons why he got into the business.
Luke's determination to advance energy efficiency into the broader conversation lead him to start the Canadian Association of Consulting Energy Advisors (CACEA) in 2014. Their goal is, "to establish and promote the credibility of energy advisors across Canada so we can educate, leverage opportunities and help stakeholders understand the industry." Luke also teaches a Building Science course for the Canadian Home Builders Association.
There has never been a more exciting time for energy professionals like Luke. In Vancouver, building codes are more energy efficient than ever before. "We're seeing a fundamental shift in the building industry. For 30 years energy building codes have been stagnant and now it's ramping up extremely fast because of the provincial goal for all new homes to be built to a Net-Zero ready standard by 2032."
The speed of this shift certainly poses a lot of new challenges for the industry – expedited timelines, greater demands, and constantly moving goal posts. But Luke takes all of this in stride and continues to see an incredible opportunity for the sector. "There are a lot of opportunities to get on the positive side – to share the really good stories of energy efficiency and what it could mean. That's what I like to focus on."