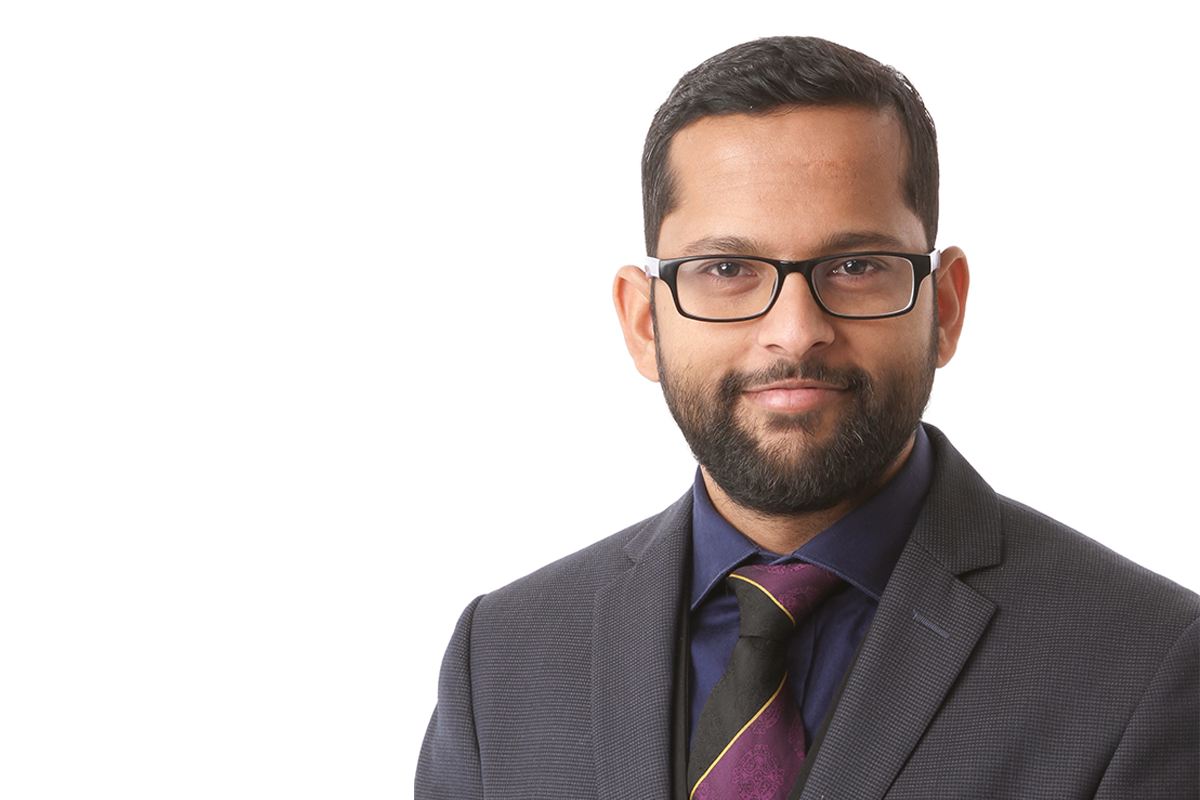 Business Energy Advisor, GreenStep Solutions Inc.
Helping people save energy and money
Razzaq Mohammed has always wanted to help people. As an energy advisor, he gets to do exactly that. 
From a young age, he knew he wanted to work in a technical environment. His dad worked in a power plant and often talked to him about boilers, turbines, and other heavy equipment. These stories sparked an interest in energy and equipment, and Razzaq decided to pursue a career in mechanical engineering. 
He completed his Bachelor's degree and was later hired by Jindal Power Limited, a leading power company in India. When he started working at Jindal Power Limited, the plant was in the commissioning stage and he was doing turbine commissioning work. After a year, he moved into operations as the plant reached the operational phase. He worked as a field engineer and a desk engineer before moving to the energy efficiency department. He liked the progression — from commissioning to  operations to performance, then working on equipment again.
After landing a new role at Sembcorp Energy India Limited, Razzaq oversaw the day to day workings of the plant and supported the operations department. This consisted of fuel management, performance monitoring, and other miscellaneous activities. He worked there for two and a half years, but the whole time, a common theme ran through his mind: he wanted to transition from the fossil fuel industry and move on to something cleaner. 
After looking at his options, he moved to Canada to pursue the Master of Engineering Leadership program at the University of British Columbia. The program offered a nice balance of technical and business elements. After graduating, he found a position with GreenStep Solutions Inc, a Canadian company that provides sustainability assessments, software, and certifications to help businesses and organizations measure and improve their sustainability performance.
One of the things that attracted Razzaq to GreenStep was the oft-repeated motto of their founder and CEO, Angela Nagy, that GreenStep is here to 'change the world'.  Razzaq currently works with GreenStep as a business energy advisor. He primarily works on two programs: the FortisBC small business engagement program and BC Hydro's business energy savings incentives program. 
One of the reasons he chose this role was a desire to see the impact his work was having on people — something that had eluded him during his years working at power plants.
"With the work that I am doing right now with GreenStep, approaching small and medium businesses, I get to talk to them, do energy assessments and, if they're interested, I actually help them in the implementation of their projects or share any energy saving opportunities." 
Razzaq and his team also help interested businesses get quotes, and talk through options to help them make informed decisions. When he's not doing drop-ins, he's in the office conducting virtual assessments and helping assessed customers implement recommendations. Seeing those changes being made while helping people save energy and money is something that brings him joy.
Multitasking is an important part of his work, and his reading habits and blogging ventures help him stay motivated and engaged. His travel blog, Razz was Here, has been online for 10 years. Four years ago, he started a second blog where he writes about his recent book reads and anything that catches his fancy. He credits engaging his mind in lots of different ways as one of the reasons why he enjoys his work so much. 
If there's one thing Razzaq wants people to take away from his career journey, it's that it is possible to move from the coal or fossil fuel industry to a career in the clean energy sector. Throughout his journey, he came across many who argued he was leaving a secure job to move into a risky area. In the end, he followed his heart and is very happy that he made the shift. 
"I started off working in power plants and now I'm working in the clean energy sector. The first job that I got was exactly where I always imagined that I would go. My work now is an extension of what I always wanted to do," says Razzaq.