Meet our Energy Trailblazer: Abiran Raveenthiran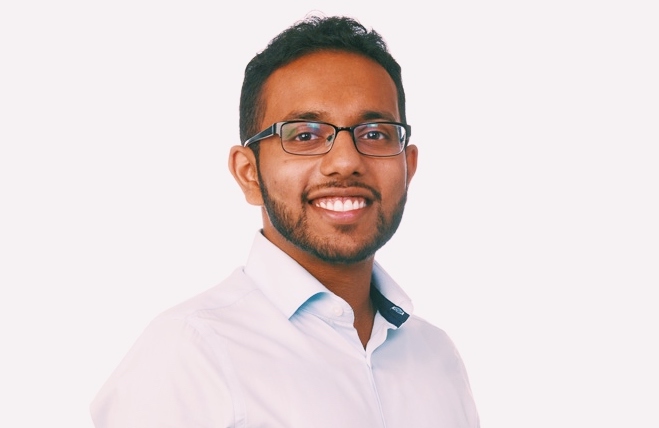 Vice President, VxV Solutions Inc.
Abiran Raveenthiran is the Vice President and Co-Founder of VxV Solutions, a leading lighting controls and IoT/Ai building technology agency and integrator. With a strong commitment to creative design implementation and sustainability, Abiran has made it his mission to transform Canada's landscape.
Throughout his career, Abiran has demonstrated his expertise in the field. Before co-founding VxV Solutions, he gained valuable experience as a Junior Electrical Designer for renowned firms such as Smith + Andersen and H.H. Angus. During his tenure at H.H. Angus, Abiran played a pivotal role in introducing a wireless lighting controls backbone to TD Towers, a Canadian landmark. His passion for lighting and controls led him to further refine his skills as a Lighting & Controls Support specialist at TPL Lighting, working closely with industry expert Will Norris. Subsequently, he served as a Sales Territory Manager for Omnify Lighting and Cence Power, expanding his knowledge in sustainable lighting controls architecture and aesthetic backlighting expertise.
Beyond his contributions to VxV Solutions, Abiran actively engages in various roles within the construction community. He serves as an Executive Member of the Canadian Green Building Council's Emerging Green Professionals Team, contributing to the advancement of sustainable practices in the industry. Additionally, he participates as a member of the User Committee for the upcoming Tamil Community Centre in Scarborough and contributes to the Heritage Advisory Committee in his hometown of Whitchurch-Stouffville.
Abiran's dedication to sustainability, innovation, and excellence in lighting controls and building technology continues to shape the industry and drive positive change across Canada's architectural landscape.
Advice on entering the energy efficiency sector
As a female and a Black female, there are always going to be obstacles. That doesn't mean, however, that I didn't face them head-on. I like a challenge. I welcome it, actually. It motivates me. So for any women out there who are BIPOC or women in general, we are dominating a very male-induced industry.
Where things are trending in workforce development is, upskilling the soft skills that you don't have. We've recognized that it's not just learning the technical stuff, you have to give them the management skills and the business skills and the stakeholder engagement skills.
The great thing is that with this sector, there is such a need for workers that they are offering courses to everyone. That's really opening up for people. You don't need to go back to school necessarily. Go do a degree or diploma. You can take like little courses at a time to upskill yourself and make yourself relevant.