Making the case: Why we need Mandatory Building Performance Standards in Canada

Sharane Simon
Research Associate, Efficiency Canada
Blogs | Buildings | MBPS | News | Provincial Policy
Buildings account for 13% of Canada's direct greenhouse gas emissions, 18% if electricity-related emissions are included.
Our country needs a comprehensive approach to retrofitting existing buildings in order to focus on energy efficiency and reduce inequities facing disadvantaged populations.
Mandatory building performance standards are necessary to ensure every building in Canada is on the path to net zero.
Buildings play a central role in the lives of Canadians. The places where we live, work and gather protect us from harsh winters and stifling summer heat. They also have a significant environmental impact, accounting for 13% of Canada's direct greenhouse gas (GHG) emissions, 18% if electricity-related emissions are included. While efforts are underway to limit energy usage and GHG emissions from new buildings and "align [their performance] with national climate objectives", a consistent regulatory framework is lacking for maintaining or improving their performance over time. As a result, the performance of existing buildings is lagging behind today's expectations. To ensure buildings are enduring assets that contribute to the health and financial well-being of occupants, Canada needs a plan of action to update the existing building stock, bringing them closer to meeting today's performance standards.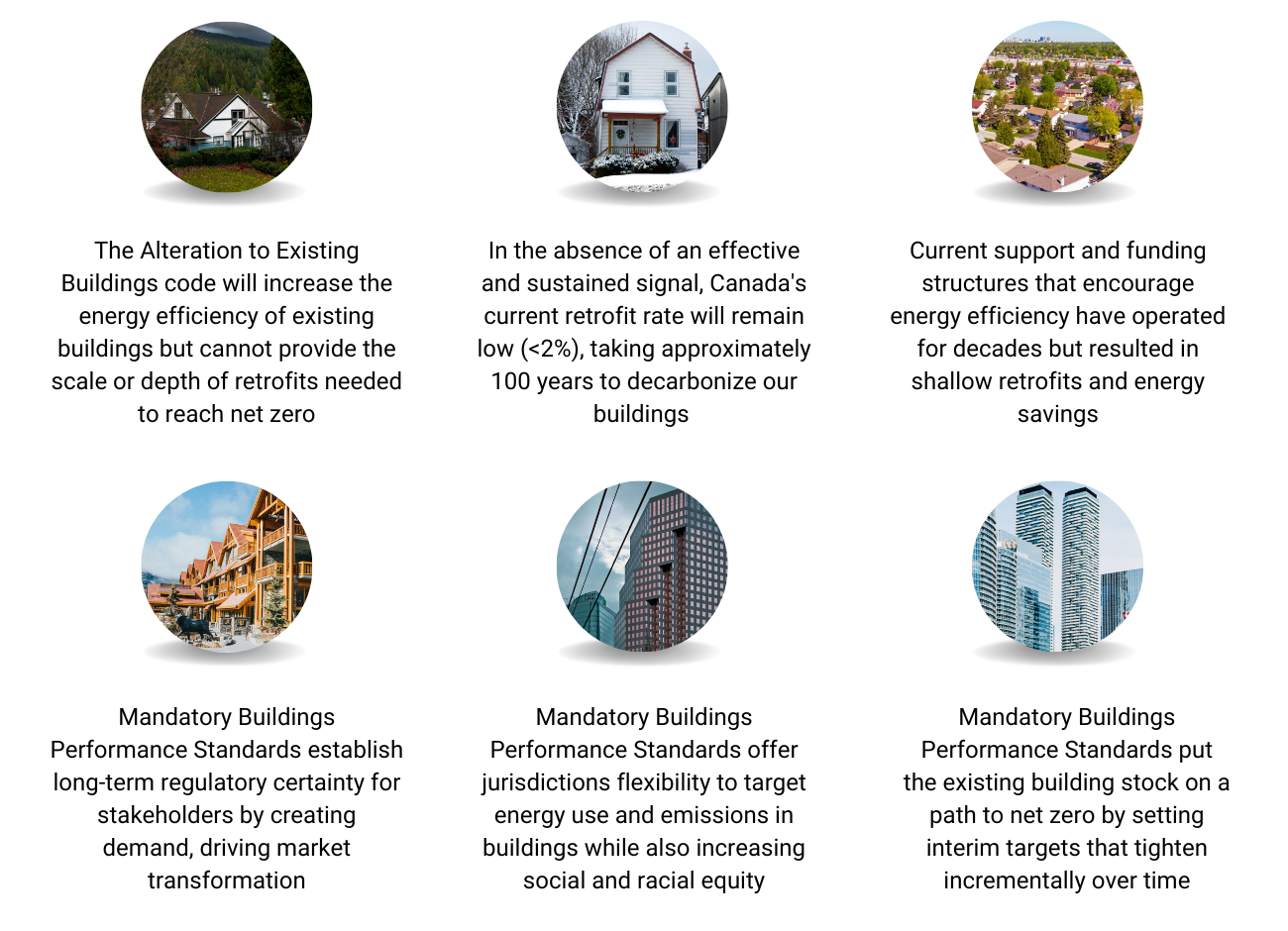 Where do we stand today?
In the 2021 mandate letters to the Minister of Natural Resources and the Minister of Innovation, Science and Industry Canada's federal government committed to "the development of … [a] model retrofit code [known as the Alterations to Existing Buildings (AEB)] by the end of 2024 that align[s] with [our] national climate objectives". Similar to the model codes for new buildings, provinces and territories will have up to 24 months to adopt the AEB, placing its earliest implementation around late 2026 or early 2027. 
Since the AEB code relies on voluntary triggers, it is likely to emerge as a low-impact solution lacking the urgency needed to cut emissions by 40-45% by 2030 and achieve net zero emissions by 2050. For example, the AEB requirements may only apply when building owners seek to perform one of the following interventions: maintenance/repair/replacement; change of occupancy type; space addition and reconfiguration; system(s) upgrade; and other (e.g., alterations not currently identified). 
On a positive note, the time of renovation triggers offers a route to market for energy efficiency improvements as building owners are already motivated to alter their space, the associated costs of the retrofit measures and disruptions may become marginal when combined with the renovation. However, by not including triggers outside the conventional purview of building codes (e.g., during real estate transactions such as during a change of tenancy or ownership, or by a specific timeframe), the potential reach is likely to be low and vary from year to year. More importantly, although the AEB code may achieve some advances, it does not prescribe a path for whole building performance improvements leading to net zero energy standards or significant greenhouse gas reductions over time, which is needed to build the retrofit economy and achieve our climate goals.
Our current approach falls short 
Over the past 10 years, Canada's retrofit rate has remained dismally low at 0.7% and 1.4% for residential and commercial buildings respectively. In the continued absence of an effective and sustained signal, our efforts to decarbonize the existing building sector will take more than 100 years, well beyond the 30-year timeframe we have committed to as a country. Our current efforts focus on establishing net zero standards in new construction, which lock in low-energy and low-carbon buildings for decades, but fail to address the majority of buildings already standing that will continue to be in use in 2050. Therefore, Canada needs a mechanism to consistently improve the existing building stock and a system to track their performance over time to ensure our buildings are moving closer to net zero.
A comprehensive policy framework is needed to signal the long-term destination of the building sector. This will provide the market for existing buildings with the certainty needed to invest in innovative products and processes and provide adequate support structures to align the demand and supply chains, encouraging business and social innovation.
As it stands, our current initiatives and programs fall short of promoting high-performance energy and emissions retrofits. Inadequate support and financial structures, boom-bust incentives and utility-led programs failing to consider decarbonization or market transformation encourage a piecemeal approach to building retrofits. Coupled with these systemic issues, building owners who may be well-intentioned and motivated are faced with obstacles that deter them from taking action. Knowledge gaps  combined with limited access to trusted information means building owners are often skeptical about the energy savings potential of these retrofit measures. This leads to building owners not knowing what to expect during a retrofit and how to evaluate if the work is done properly. 
Given this complex and uncertain environment, it's no wonder most building owners will choose a convenient solution to achieve shallow energy savings. With the rate and scale of the retrofits activity required, existing support services need to be redesigned, prioritizing approaches to simplify the process for building owners and define the end-goal for energy efficiency programs, market service providers, and building owners to focus on.
Better-performing buildings support equitable outcomes
Beyond achieving our climate goals, poor indoor environments impact our health, as Canadians spend around 90% of their time inside their homes, schools and workplaces. Although a complex issue, studies have linked increased cardiovascular conditions, strokes, premature deaths, asthma and other respiratory diseases to extreme heat, cold, mold and dampness in indoor environments. Buildings using fossil fuels as their heating source can release significant pollution into the air, especially in urban environments, impacting vulnerable populations. Lower-income communities, newcomers, racial minorities, and Indigenous Peoples are disproportionately affected, due to existing limited access to health care and other disparities. 
To counter these challenges and support equitable outcomes, Canada needs a comprehensive approach to retrofitting existing buildings, considering the inequities facing disadvantaged populations and intentionally reducing negative outcomes such as increased energy insecurity for low-income households and risk of renovictions.
Target-based standards can drive deeper retrofits
To achieve country-to-city level climate and equity goals, there has been an increased interest in the use of Mandatory (or Minimum) Building Performance (or Energy) Standards (MBPS or MEPS) worldwide. At its core, MBPS is a regulated standard that establishes targets for buildings at a specified date or trigger point for example throughout a major renovation, inspection, or building transaction. These performance standards are embedded within a framework of financial assistance, practical support and social safeguards for disadvantaged populations. MBPS offer flexibility, as they are used at the national, regional or city level to target the entire building stock or to focus on specific sectors, tenures, building types and sizes. Beyond climate goals, jurisdictions can tailor MBPS to local priorities and stakeholders. To successfully design performance standards, most jurisdictions conduct market segmentation studies to assess the current state of the building stock with subsequent benchmarking. This step is crucial as targets must be achievable but not burdensome and in line with the overall goal for the city-wide building stock. 
Several cities and states in the US, Australia and various Member States in the European Union have already adopted performance standards to swiftly accelerate their decarbonization plans. These countries have recognized current measures including building labeling, financing, subsidizing, and incentivizing energy efficiency lack the effectiveness needed to overcome the many barriers to retrofits. These jurisdictions have recognized MBPS as a powerful tool to drive the desired rate and depth of retrofits, while addressing the numerous barriers to increasing the energy and emissions performance of existing buildings. The mandatory nature of these standards provides a backstop, warranting more equitable outcomes and the certainty industry needs to confidently invest, innovate and upskill.
What's next?
To reach our climate commitments we need policy tools that build robust markets for retrofits instead of implementing midpoint policies. MBPS offers Canada the opportunity to develop and implement standards for existing buildings that help combat our climate crisis while enjoying the co-benefits of health, social equity, resilience and local economic development. 
The development and implementation of mandatory building performance standards will require significant thought and preparation to overcome the barriers mentioned. Authorities having jurisdiction will need to buy into this policy, identify local priorities and be certain they have the legal authority to implement mandatory standards. Accurate and current benchmarking data are required to identify the underperforming buildings, select the right triggers to drive retrofit activity and set ambitious, achievable and cost-effective targets based on well-known metrics (e.g., ENERGY STAR score, site energy use intensity (EUI), or GHG intensity). Other practical components will include establishing a timeline for compliance and penalties, identifying authorities who will be responsible for the enforcement, and developing a wealth of appropriate support programs for building owners. All stakeholders will have an obligation to be engaged and educated to raise their awareness and literacy around building retrofits and energy use. Additionally, since the workforce will likely be a critically limiting factor, it will be important to assess and strengthen the size and skill level before implementation.
Conclusion
Cutting emissions in the buildings sector demands we address existing buildings by taking bold and ambitious actions. We need policy tools, such as mandatory building performance standards, to ensure every building in Canada is on the path to net zero. Together, we can help remove barriers to their implementation and capture new opportunities for innovation.