REPORT
The Cool Way To Heat Homes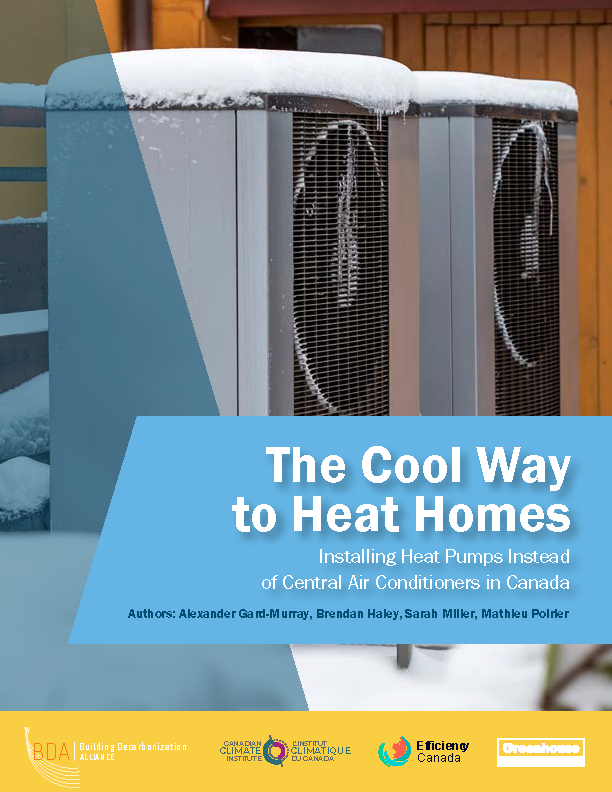 With the more frequent occurrence of extreme heat waves driven by climate change, the need for efficient cooling is dramatically growing. To tackle this issue, many Canadians are opting for central air conditioners, inadvertently overlooking the tremendous potential of heat pumps.
While central air conditioners and heat pumps share mechanical similarities, heat pumps excel in energy efficiency by moving existing heat, reducing energy consumption, lowering heating bills, and minimizing greenhouse gas emissions. In the context of Canada's climate goals, where the building sector accounts for 18% of emissions, heat pump implementation would be a cost-effective strategy to meet heating and cooling needs and align with Canada's decarbonization goals.
This report from the Building Decarbonization Alliance, Canadian Climate Institute, Efficiency Canada, and Greenhouse Institute underscores this missed opportunity among Canadians to reduce emissions from home heating and save on energy bills: by switching to heat pumps, consumers could collectively save $10.4 billion in energy bills and reduce home heating emissions by 19.6 million tons by 2035 while obtaining the same cooling benefits.
Efficiency Canada would like to acknowledge the financial support of The Atmospheric Fund for this report.
Learn more about heat pumps