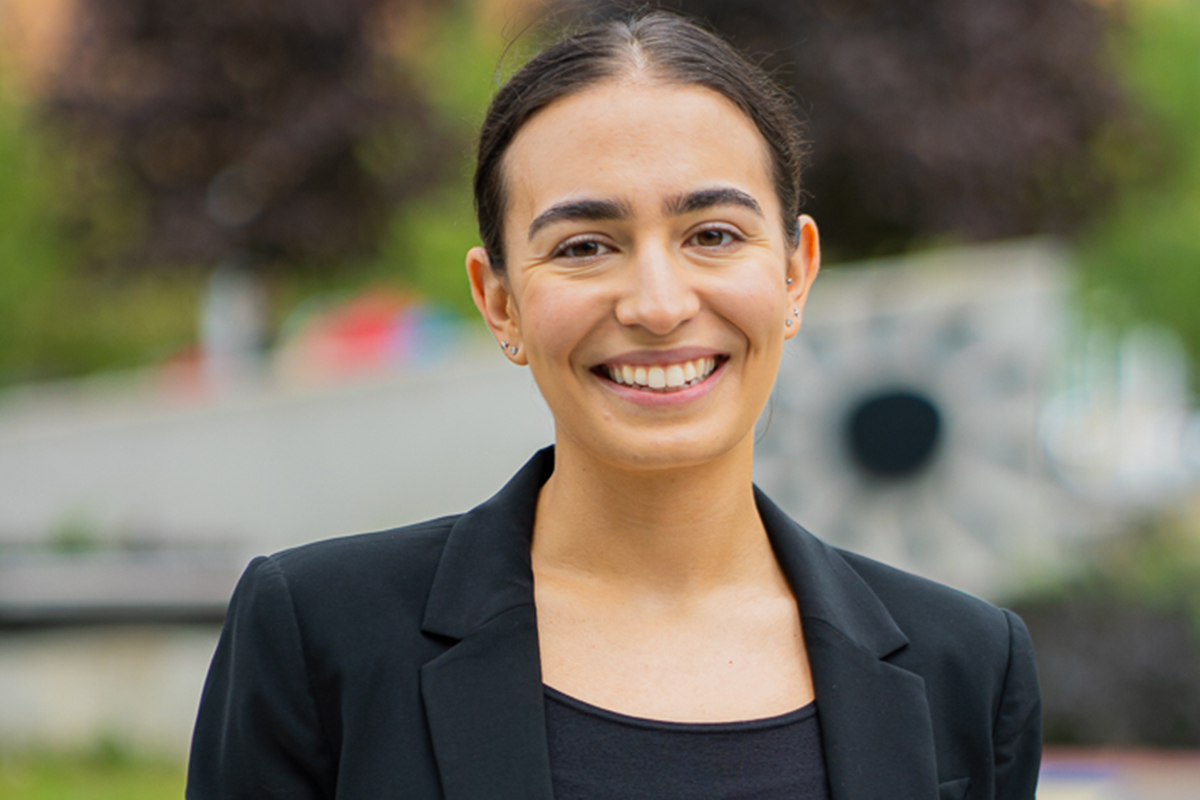 Project Manager, Écohabitation
Innovating home renovations in Quebec
Social and business model innovation are at the core of what drives Alessandra Robillard's work. She believes that bridging the gap between the private and public sectors is key to making energy efficiency accessible to everybody. 
Alessandra is interested in technology and has always wanted to work on sustainability issues. She graduated from McGill University with a specialization in bioengineering. The challenges within the sustainability sector seemed exciting, and she pursued a career as a mechanical engineer.

When the pandemic hit, she had been working at a biotech startup for four years and was increasingly feeling the pull to pivot to an environmentally-focused career. The desire was only strengthened by attending an Écohabitation training course while helping her dad build an eco-home in eastern Quebec. She began a specialized graduate diploma in Sustainability Management at HEC Montréal. In what she describes as a perfect storm of events, she started working at Écohabitation in January 2021.
Today, Alessandra is a project manager with Écohabitation. Her main project is JeRénovÉco, a Property Assessed Clean Energy (PACE) approach program designed with and for Quebec municipalities. PACE programs help finance home renovations or retrofits. Participants receive a loan that they can pay back or finance through their municipal taxes. 
Quebec successfully tested the program in three municipalities. Now, the idea is to build a more scalable program for all of the different municipalities in Quebec. 
Alessandra describes JeRénovÉco as an innovative endeavour similar to a startup project, because it is not something that's been done in Quebec before. Every province implements the program in its own way. Écohabitation, a non-profit,  is the perfect organization to lead this work in Quebec, because they already do education and training, and people need a significant amount of guidance when it comes to home energy retrofits. 
"You're not going to have only one family living in a home forever. So I think that resilience needs to be built in from the get-go. It can't just be an afterthought."
In addition to getting to apply her startup knowledge to the project, Alessandra loves that there is differentiation in the work she does each day. She always enjoyed lab and experimental work, but at some point it got repetitive. The switch has allowed her to do multiple things as part of her role, often in the same day. On this project, she says, you need to know all of the parts of the business in order to make it work, whether that is understanding the financial aspects or coming up with a solid marketing strategy. 
Another parallel between the company that she used to work at and Écohabitation is the skill to find ways to break down complex problems and solutions to convey the most beneficial features to each stakeholder.
"Le système est très complexe," she muses. "Every detail is important, but how do you convey all of those without necessarily taking or having an hour to explain those concepts to somebody?" She believes everyone has a part to play in energy efficiency, and this can be achieved by making people feel like it isn't some inaccessible concept that's out of their reach. 
The social aspect of Alessandra's work closely aligns with her values. She recognizes that it's become a lot cheaper to do energy efficient retrofits, but there is still a significant portion of people who cannot afford these types of renovations. "There comes a point where the more fortunate population has to pave the way in a manner that makes these kinds of retrofits more affordable for the people who don't necessarily have the money to spend on things like a heat pump or efficient windows. So, that's the other aspect of my work that I feel really aligns with my values," shares Alessandra. 
She says that until all of us are able to access those climate solutions, we're not going to get anywhere. "It's also not going to be resilient, if only the 1% gets to be able to retrofit their homes," says Alessandra.