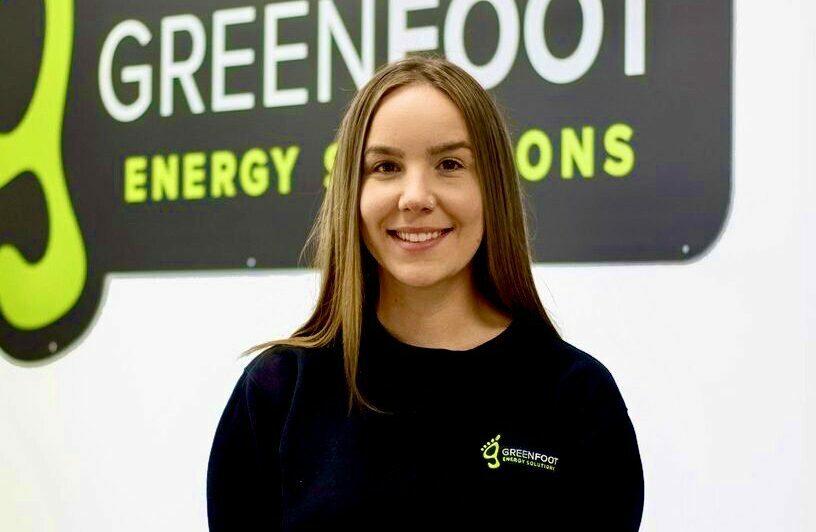 Energy Efficiency Consultant/Estimator, Greenfoot Energy Solutions
Saving energy is a family tradition
Growing up with a dad who is a contractor, Andrea Henwood always knew she wanted to follow in his footsteps and work in the trades. During her teens and early twenties, a focus on environmental sustainability became of more interest, and led to her enrolling in the Energy Sustainability Engineering Technology program at the Nova Scotia Community College.
It didn't always feel like I would, but I ended up very close to where I wanted to be, which has been a bumpy but amazing experience," says Henwood.
Andrea is an Energy Efficiency Estimator for Greenfoot Energy Solutions, a company that offers insulation and heating, ventilation, and air conditioning (HVAC) services. Her day to day role entails meeting with customers in their homes to assess their needs, and then advising them on energy efficient ways to upgrade their home after an initial consultation.
Prior to this, Andrea spent eight years as a Program Manager working on energy management information systems at Efficiency Nova Scotia.
"It's funny because this role with Greenfoot is more of a trades type of role. You really have to have a solid understanding of building sciences, construction, building codes, as well as what you can and cannot do. It's been a big learning curve but I'm fortunate to work with a great team and have family in the industry who have helped me learn along the way," shared Henwood.
She highlights educating clients and providing them with custom solutions as key parts of the process.
"Educating our clients is something we pride ourselves in doing. You really have to take the time to understand what people's wants and needs are and provide them options that are going to meet those needs, rather than just telling them what they need."
Last spring as COVID restrictions began, many people finally dealt with the home improvements they had been putting off for years as a result of spending more time at home inefficiencies became more noticeable. Andrea was happy to help homeowners become more comfortable as well as save money on their operating expenses.
She finds it exciting that so many people want energy efficiency options and want to improve their homes for a variety of reasons. "It's great for the industry in general and great for climate change mitigation. "It's great to see the market move this way, the more we can educate people the more success we're going to see."
Andrea credits part of her success in working with her clients to the fantastic team of people she works with. "I wouldn't be as successful in my role if it wasn't for everybody on the team,"we have such a wealth of knowledge in our people and collaborating with them has helped me learn and grow in this role." She loves the team aspect of her work as much as she loves having experiences with home owners that make them more comfortable in the space they share with their families.