2020 Year in Review
We've made some big moves this year. Here's to even bigger ones in 2021!
Blogs | News | Workforce Development
This year has proven an old maxim to be true: "May you live in interesting times" isn't exactly a well-wish.
However, despite the fact that many of us are keen to leave 2020 in the rear view mirror, there are nonetheless quite a few things to celebrate as we wrap up the year.
Here are a few of our highlights:
After COVID-19 hit, we joined a coalition of clean energy and cleantech groups in calling for a resilient. sustainable, and just economic recovery.
We followed that up by creating a training hub for Canadians looking to work in energy efficiency, set to expand in 2021. We also started regular #DiscoverEE, #AdvocacEE, and "Becoming" webinars to convene the sector and share knowledge.
In the summer, the government of Canada set a three percent target for energy efficiency improvement, and we provided expert advice to the national task force recommending a $27.3 investment in building retrofits.
We released two new reports on building codes: both on compliance, and strengthening the codes process.

In Autumn, the Speech from the Throne directly highlighted retrofits,

 and was followed by a Canada Infrastructure Bank (CIB) announcement of $2 Billion for retrofits: a potentially transformative change.
We released our Provincial Policy Scorecard and Database just as the federal government tabled Bill C-12: An Act respecting transparency and accountability in Canada's efforts to achieve net-zero greenhouse gas emissions by the year 2050. One of the themes in the report is to make federalism work for energy efficiency and help drive towards a net zero economy.

Over the year, we arranged over 40 meetings across Canada between constituents who care about EE and their elected representatives.
Check out the infographic below for more of our highlights!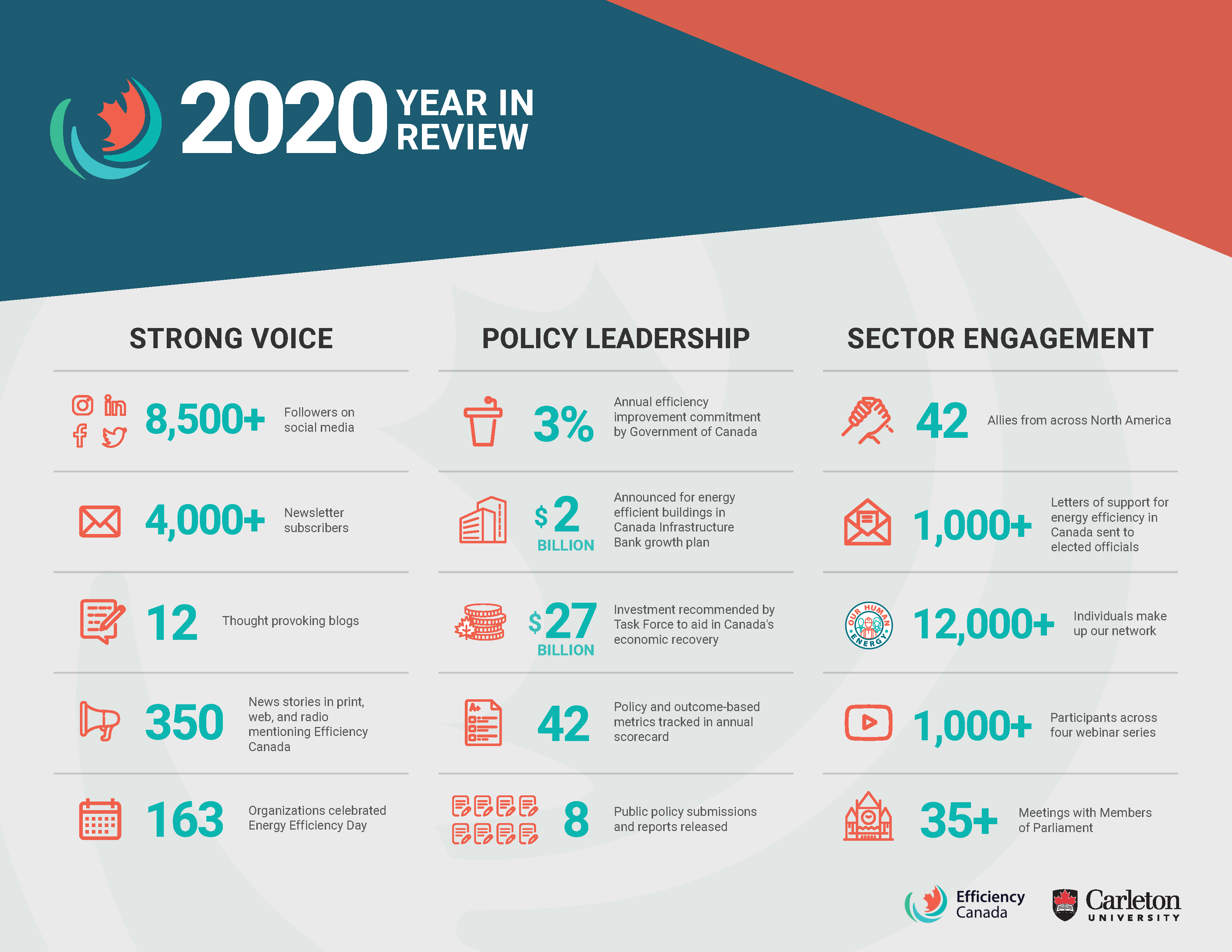 If you appreciate the work we have done this year, and want to see more in 2021, consider donating to Efficiency Canada on #GivingTuesday (December 1, 2020), as our home of Carleton University matches donations made in the morning, dollar-for-dollar.