Building Codes for New Buildings
In March 2022, the National Research Council published the latest version of the National Model Building Codes for new buildings. This "2020" version of the codes is an integral component of Canada's climate action plan.
Learn about the codes, why they matter, and what policies are needed next to make sure all new buildings are energy efficient and zero carbon. 
What are the 2020 model building codes?
The National Research Council publishes model building codes that are available for adoption (with amendments and supplements) by provinces and territories, as well as municipalities with the relevant authority.
Energy efficiency in new construction is covered under the 2020 model codes. It include the National Energy Code for Buildings (NECB) for large buildings and the National Building Code (NBC) for low-rise residential buildings. Existing buildings will be covered under the Alterations to Existing Buildings code, expected to be published by the end of 2024.
Why is this version of the codes different?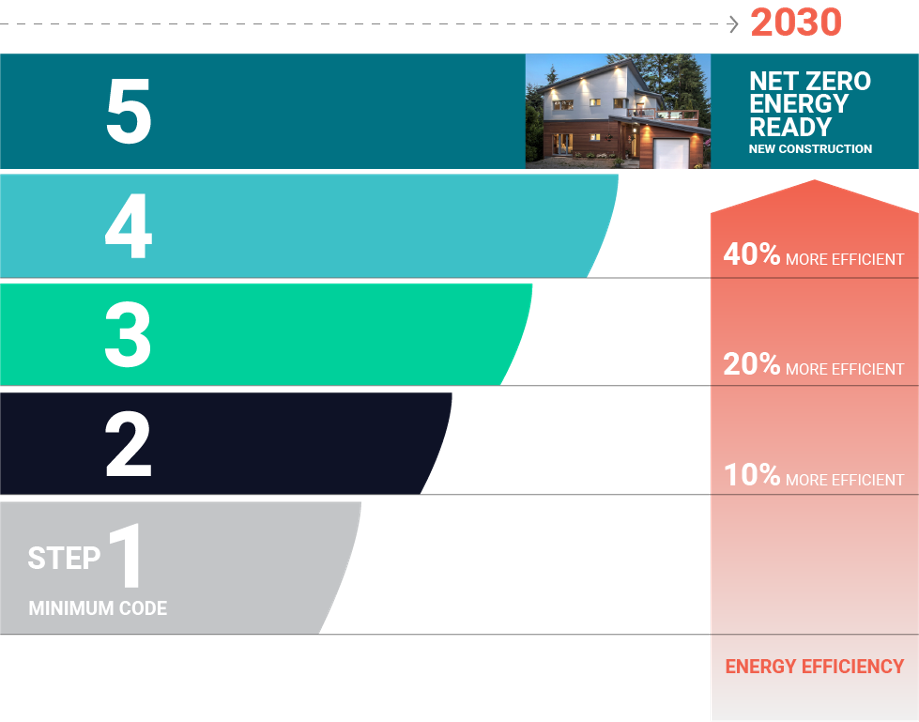 This version of the model codes includes performance "tiers" with the highest tier consistent with a net-zero energy-ready standard. Net-zero energy-ready means a building is so energy efficient that it can easily supply its own needs over the course of a year with the addition of on-site renewable energy or off-site clean energy.
This version of the code is not simply a minimum standard. It is a pathway to make all new buildings consistent with national "net zero" policy objectives.
This new building code framework is like the British Columbia Energy Step Code first introduced in 2017.
How can provinces and municipalities improve the code?
As leaders in climate action, municipalities across Canada can leverage the 2020 model codes to advance building performance — decarbonizing the building sector and reaping the many benefits of the tiered framework for local industries and residents alike. Building codes can reduce emissions quickly, but they often move slowly, limiting the potential impact. Municipalities play a critical role.
Net-zero building codes are supported in all regions
Polling by Abacus data for Efficiency Canada shows that net-zero energy-ready building codes are supported or strongly supported by 60-77% of Canadians in all regions. All provinces have public support in adopting the latest model codes.
The urgent need to accelerate building code adoption
Every new building that is energy inefficient and uses fossil fuels adds to Canada's GHG emissions. Modelling for Canada's climate plan estimated that 9 Mt of GHG reductions would come from more stringent building codes by 2030.
Canada's climate plan aimed for all new buildings to be net-zero energy-ready by 2030. In the 2021 federal election, the Liberal Party promised to "accelerate" this year for 2025 adoption and to add emissions to the code, which now solely considers energy use.
Today, only one province, British Columbia, has committed to a net-zero energy-ready and zero-carbon code by 2030, after years of work conducting outreach and preparing local markets.
A benefit of the tiered framework is that it can offer municipalities a path to go above provincial minimums, while also maintaining harmonization across the country. Yet, only British Columbia, Québec, and Newfoundland and Labrador have declared that municipalities can adopt tiers above provincial codes, and Manitoba and Nova Scotia state municipalities cannot adopt higher performance tiers (Table 52 in 2021 Provincial Energy Efficiency Scorecard).
How can the federal government accelerate net-zero code adoption?
Given the delay in publishing the model code and the promise to speed up adoption by 2025, the federal government has a responsibility to support market readiness in provinces and municipalities.
Efficiency Canada has long-advocated for a Net-Zero Code Acceleration Fund to support activities like studies on costs and compliance, and capacity building in building trades and municipalities. In early 2023, Canada launched a call for proposals for the Codes Acceleration Fund — $100M to help provinces, territories, municipalities, Indigenous governments and stakeholders decarbonize the buildings sector.
Next, the federal government can create national tools to make complying with the code easier.
Read our latest blogs on building codes for new buildings