2021: A Year in Review
A turning point for energy efficiency
Blogs | News | Workforce Development
Energy efficiency has never been more popular, but until we scale up implementation, we're never going to reach its true potential.

Despite the lack of in-person events, our community found ways to stay connected over the last year.

This year energy efficiency was solidified in Canada's climate policies.
Here are a few of our proud moments from 2021:
We encouraged the federal government to invest an average of $3.6 billion per year in energy efficiency.

We hosted a rally and ran a campaign to expand low-income energy efficiency programs, so all Canadians can benefit.

National conversations on retrofits were reframed by our Climate Retrofit Mission report.
Climate platforms in all three major national political parties in the 2021 election were influenced by our policy recommendations.
Working alongside the Appliance Standards Awareness Project we debunked arguments calling for a delay in appliance efficiency standards.
Work began on a career hub (launching soon) to connect learners with careers and training options and continued to host our popular free knowledge sharing webinars series #DiscoverEE, #AdvocacEE, and Becoming that saw over 1,000 people participate.
209 organizations joined in the celebrations for #EEDay2021 on October 6th and for the first time ever 12 municipalities joined in by making a proclamation.
We launched a blog series discussing how to encourage building retrofits through codes and minimum performance standards.
Most recently, the 3rd Provincial Energy Efficiency Scorecard was released showing that provinces need to increase their efforts to help Canada realize energy efficiency's potential.

152 news stories mentioned Efficiency Canada's work and helped to spread the word on the importance of energy efficiency programs and policies. 
Check out this fun infographic that highlights a few more milestones from the past year!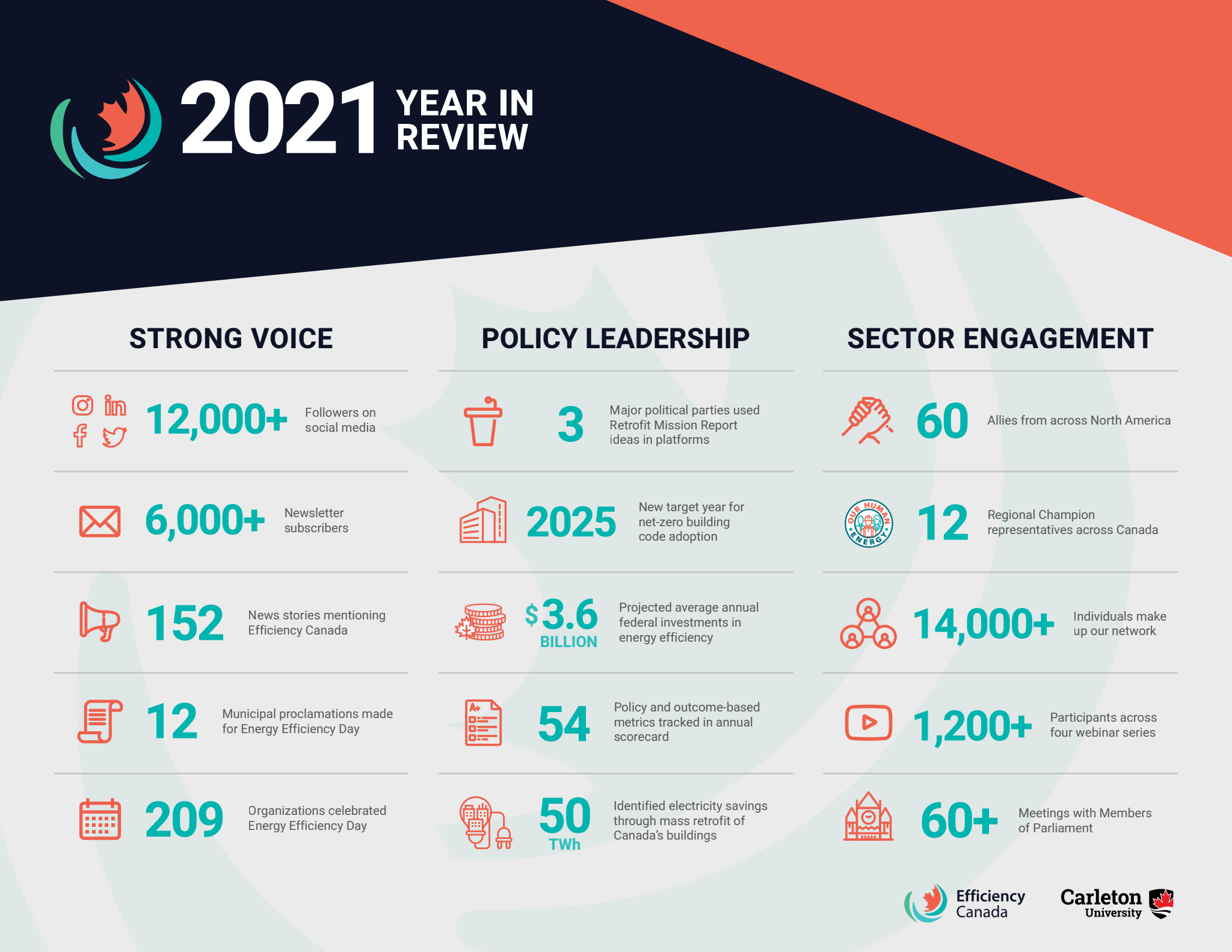 If you appreciate the efforts our team has made over the last year, and want to see more in 2022, consider donating to Efficiency Canada on #GivingTuesday (November 30, 2021), as our home of Carleton University matches donations made in the morning, dollar-for-dollar.