Blogs | In the News | News | Policy Work | Scorecard | Topics
Energy efficiency made some major strides in 2022, especially in the area of low-income energy efficiency and new construction building codes, but there is much more to be done.
Our Retrofit Mission report led to the federal government announcement about the Net-Zero Building Codes Acceleration Fund, which will be announced in late 2022.
Energy Efficiency financing became much more accessible to Canadians through the Greener Homes Grant, providing $40,000 per household.
Energy Efficiency had a big year in 2022. We saw some major advancements in the sector and made some substantial moves within Efficiency Canada. Read on to find out what we're celebrating this year!
Energy Efficiency in Low-Income Households
After the release of our Efficiency for All report in 2022, we saw two major announcements for low- to moderate- income households. Both announcements totalled $500 MM in funding for fuel switching from oil to heat pumps, and made this funding available up front. This year, our supporters tweeted riding-specific data, wrote letters and met with their MPs.  We will continue our strong campaign to demonstrate to the government that an inclusive federal strategy is both timely and critical. Efficiency Canada will continue to advocate for a $2 billion investment in helping Canadians experiencing energy poverty.
Building Codes Across Canada
Following the release of the 2020 National Model Codes in March, we have seen four provinces commit to implementing net-zero building codes by 2030. Efficiency Canada was ready for the release, with an advocacy toolkit to help increase adoption of the new building codes. We are also working with Low Carbon Cities Canada to help municipalities across the country adopt net-zero building codes, through information sharing, lessons learned and easy-to-find resources. Our Action on Building Codes (ABC) Council will also leverage this work to assist municipalities ready to make the change. 
We also strongly advocated for and prevented the delay of the Alterations for Existing Buildings Code, fondly referred to as the "retrofit code".
Other Efficiency Gains In 2022:
There was so much else to celebrate this year within Efficiency Canada and the sector as a whole, including:
Vancouver passing legislation to bring into effect Building Performance Standards, the first in Canada. 

Montreal phasing out oil as fuel for heating. 

The Natural Resources Minister and Minister of Innovation gaining responsibility for building codes, wherein last year there was no federal ministerial accountability for building codes

Renewal of the Low Carbon Economy Fund, which was a 2020 Scorecard recommendation.

BC, NB, PEI (only residential), and Yukon (2032 date) leading Canada as the four provinces committing to adopting net-zero building codes by 2030. 

The federal government adopting four out of five of the recommendations made in our

2021 Canadian Energy Efficiency Scorecard

, including accelerating the adoption of net-zero building codes and at-scale building retrofits.

Numerous jurisdictions across Canada referencing the Scorecard as they scaled up programs and policies, including the New Brunswick

February 2022 Auditor General Report

, Nova Scotia's

Act to Increase Energy Efficiency in Nova Scotia

and hiring programs within the Government of British Columbia. We also saw Ontario reinstate their efficiency program spending after cutting it in 2021. 

Nova Scotia overtaking Quebec for second place in Canada, largely due to their investment in low-income energy efficiency in the 4

th

edition of the Scorecard. 

Submitting clear, industry-leading recommendations for the newly announced Canada Green Building Strategy, and leading sector engagement on the strategy. Many of our ideas were included in the discussion paper released in July, including a market transformation approach and a goal to retrofit 3-5% of buildings annually. 

Welcoming more people into the efficiency sector through jobs, training, and community. We launched our DiscoverEE job board and posted over 400 jobs in the

first few months.

Seeing a 250% increase in media outlets sharing or featuring Efficiency Canada's news or staff perspectives across the country, resulting in 532 stories. 

Seeing our community take over 7,700 actions to promote the importance of energy efficiency. Their actions ranged from sharing information on social media, to accessing our reports, to connecting with their MPs. 

Launching Career Guides, which transforms Champions from Our Human Energy into mentors, public speakers and information sources for others wanting to enter the energy efficiency sector. 

Strengthening knowledge in the technical, social and workforce components of the energy efficiency sector in partnership with our 49 Allies and many other supporters. We saw over 2,600 attendees and almost 25,000 views on Youtube for our webinar series' DiscoverEE and Becoming.
This isn't everything… Tell us what energy efficiency wins you're celebrating this year!
Here is a quick look at some of our achievements, as well as those for the efficiency sector this year: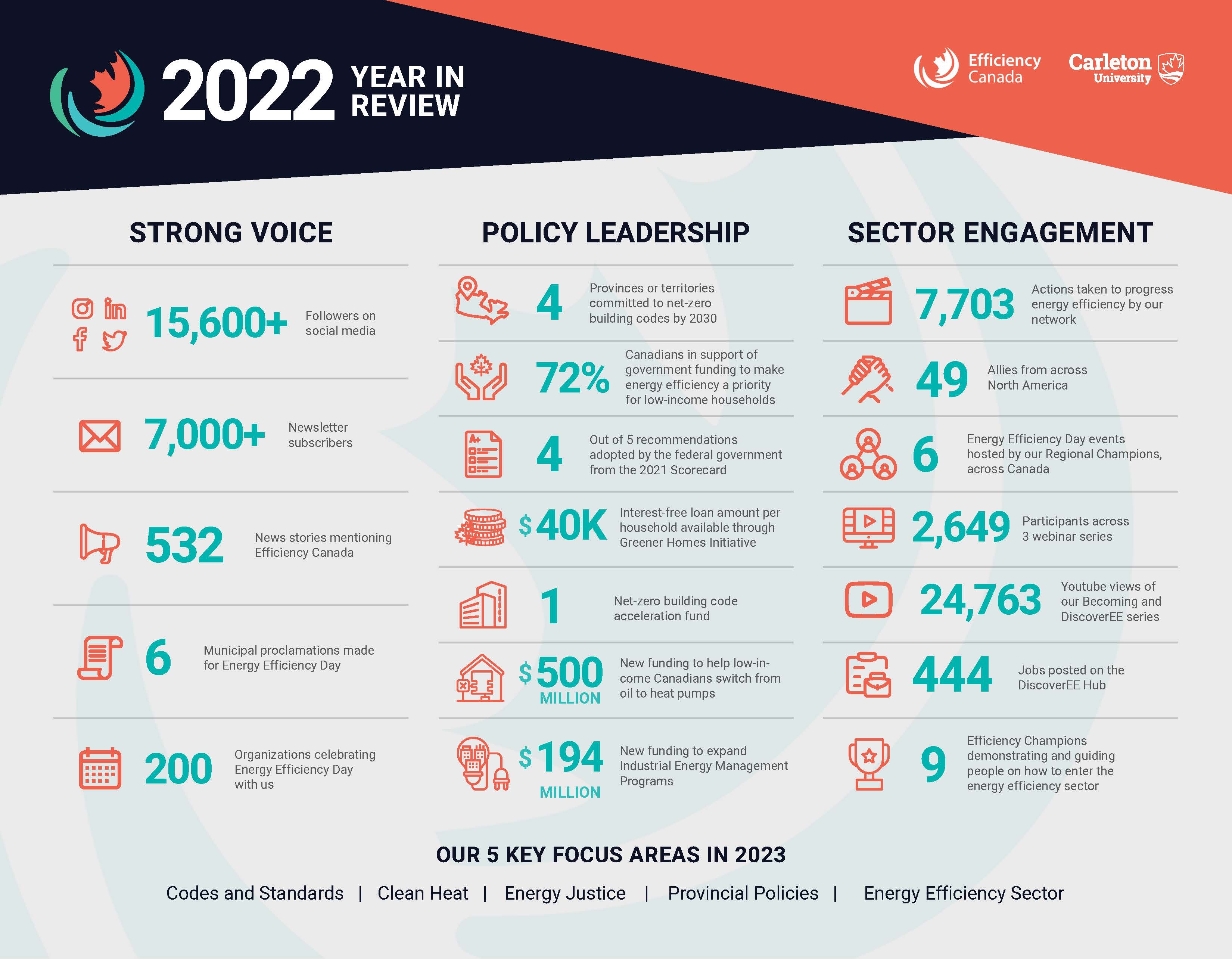 Looking ahead
In 2023, Efficiency Canada will focus on the following issue areas: 
Codes and standards – Efficiency Canada will continue to support the adoption of net-zero building codes across Canada, and support the development of codes and standards for existing buildings. 

Clean Heat – we will research and release clear policy options and regulations to make all space and water heating technologies at least 100% efficient by 2030.

Energy Justice – we will continue to mobilize around a national energy poverty strategy for Canada, advocating for significant federal and provincial investment.

Provincial Policies – our Scorecard is moving to a two-year frequency, and our work will shift to support deeper policy research and comparative data throughout the year. We aim to increase accessibility to policy information through our Database. 

The Energy Efficiency Sector – we will ramp up our job board in the New Year and engage more Canadians interested in joining the sector through our Career Guides program. 
If you're interested in learning more about Efficiency Canada's work, or supporting us, don't hesitate to reach out to me!