The 2020 Model Building Codes
In March 2022, the National Research Council published the latest version of the National Model Building Codes for new buildings. This "2020" version of the codes is an integral component of Canada's climate action plan.
Learn about the codes, why they matter, and what policies are needed next to make sure all new buildings are energy efficient and zero carbon. 
What are the 2020 model building codes?
The National Research Council publishes model building codes that are available for adoption (with amendments and supplements) by provinces and territories, as well as municipalities with the relevant authority.
Energy efficiency in large buildings is covered under the National Energy Code for Buildings (NECB) and the National Building Code (NBC) for low-rise buildings.
They are called the 2020 model building codes because that is when they were supposed to be published, but they were delayed.
Why is this version of the codes different?
This version of the model codes includes performance "tiers" with the highest tier consistent with a net-zero energy-ready standard. Net-zero energy-ready means a building is so energy efficient that it can easily supply its own needs with renewable energy. 
This version of the code is not simply a minimum standard. It is a pathway to make all new buildings consistent with national "net zero" policy objectives.

This new building code framework is like the British Columbia Energy Step Code first introduced in 2017.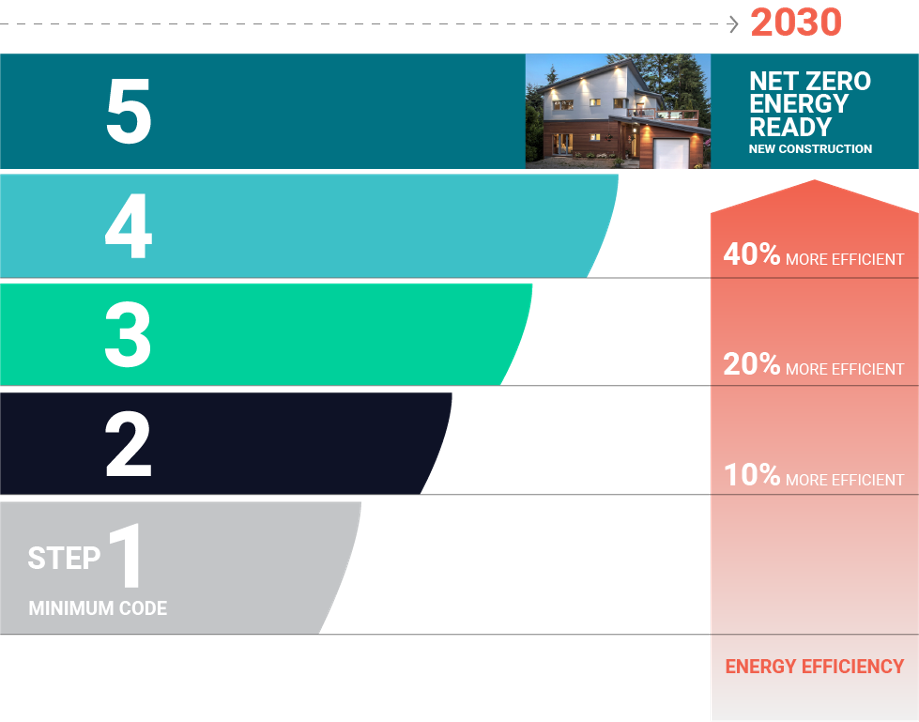 How can provinces and munincipalities improve the code?
The model codes can be amended and supplemented. To meet "net zero emission" objectives, Efficiency Canada suggests:
Requiring use of zero-carbon ready heating sources

, as implemented in Vancouver, and recommended by the International Energy Agency's net-zero scenario

Making testing for airtightness mandatory

to prevent problems associated with moisture flow and to ensure energy efficiency performances.
The Municipal Guide to Net Zero Energy Ready Building Codes
Municipalities across Canada have set ambitious climate targets. The path to meeting these climate commitments must include finding ways to optimize building energy efficiency. This guide contains everything you need to understand tiered codes, the advantages of adopting an ambitious tier, and how municipalities can use the new codes to achieve net-zero emissions by 2050.
Net-zero building codes are supported in all regions
Polling by Abacus data for Efficiency Canada shows that net-zero energy-ready building codes are supported or strongly supported by 60-77% of Canadians in all regions. All provinces have public support in adopting the latest model codes.
The urgent need to accelerate building code adoption
Every new building that is energy inefficient and uses fossil fuels adds to Canada's GHG emissions. Modelling for Canada's climate plan estimated that 9 Mt of GHG reductions would come from more stringent building codes by 2030.
Canada's climate plan aimed for all new buildings to be net-zero energy-ready by 2030. In the 2021 federal election, the Liberal Party promised to "accelerate" this year for 2025 adoption and to add emissions to the code, which now solely considers energy use.
Today, only one province (BC) has committed to a net-zero energy-ready and zero-carbon code by 2030, after years of work conducting outreach and preparing local markets.
A benefit of the tiered framework is that municipalities can go above provincial minimums. Yet, only BC, Québec and Newfoundland and Labrador have declared that municipalities can adopt tiers above provincial codes, and Manitoba and Nova Scotia state municipalities cannot adopt higher performance tiers. (Table 52 in 2021 Provincial Energy Efficiency Scorecard)
How can the federal government accelerate net-zero code adoption?
Given the delay in publishing the model code and the promise to speed up adoption by 2025, the federal government has a responsibility to support market readiness in provinces and municipalities.

Efficiency Canada suggests creating a Net-Zero Code Acceleration Fund of $200 million over three years to support activities like studies on costs and compliance, and capacity building in building trades and municipalities. The federal government can also create national tools to make complying with the code easier.
View the latest Building Codes
Learn how to advocate for code adoption
A guide that breaks down everything you need to know about model building code adoption, with tools for local activists.
Receive information and access to tools
Sign up for Efficiency Canada's Municipal Building Codes newsletter to learn how to leverage tiered codes to accelerate change in your community.
Codes4Climate Building Code Advocacy Toolkit
A guide that breaks down everything you need to know about model building code adoption, with tools for local activists.
Provincial Energy Efficiency Policy Scorecard and Database
An annual benchmarking of provincial policies, including which version of the code currently adopted and enforced by provinces, building code compliance activities, activities to prepare for new codes, and ability for municipalities to adopt tiers above code. The companion database is searchable by province and policy area.
Tiered Energy Codes Best Practices for Code Compliance
Report on how all levels of government can encourage compliance with building codes. Legal codes will not deliver energy savings if there is non-compliance with codes on the ground.
Airtightness testing
A blog that explains a decision in early 2021 to exclude mandatory airtightness testing for the codes, and potential impacts on energy savings, safety, and building durability.