Nova Scotia must increase energy efficiency to avoid a costly power plant in 5 years
This is the first in a series of provincial snapshots we will undertake over the coming months. The goal is to provide a perspective on burgeoning energy efficiency issues across the country, helping to spur policy debate on timely topics.
This article originally published in the Chronicle Herald on May 15, 2018
Brendan Haley
Efficiency Canada, Policy Director
New analysis shows that Nova Scotia can save $700 million and avoid building a new natural gas power plant by increasing its level of electricity savings.
There is currently a process before the province's regulatory commission (the Nova Scotia Utility and Review Board) considering the future of the utility's aging coal fired power plants (titled "Nova Scotia Power Inc. Thermal Generation Utilization and Optimization"). Synapse Energy Economics, acting as a consultant to the Board, produced detailed modelling results considering the operation of the electricity system on an hourly basis, and optimizing to find the lowest cost mix of resource options over a 25-year period.
The model considered two levels of energy savings achieved through programs such as energy audits, lighting upgrades, and industrial energy management. A business as usual level consistent with the province's efficiency utility (Efficiency Nova Scotia) savings of about 1.3% of annual electricity sales or a higher efficiency level ramping up to 2% annual savings. To be conservative, the modellers assumed that programs would cost almost twice as much to save more energy.
The business as usual "reference" scenario indicated the need to construct a new 250 MW combined cycle natural gas plant in 2023. Building this plant would scuttle the power utility's plan to transition from coal to renewables without becoming locked into natural gas infrastructure (labelled "coal to clean"). Increasing energy efficiency prevents the need to build the gas plant and incur other costs, leading to a net present value savings of almost $700 million. If energy efficiency was coupled with more wind power and transmission upgrades the monetary savings would be $800 million. This combination of efficiency and renewables provided the lowest cost resource mix.
The higher levels of energy efficiency would flatten peak demand and reduce electricity generation. These targets are aggressive but achievable. Efficiency Nova Scotia has consistently hit targets and led the country in electricity savings. Yet, other jurisdictions like Vermont, Massachusetts, and Rhode Island are regularly hitting 2% annual energy savings or higher.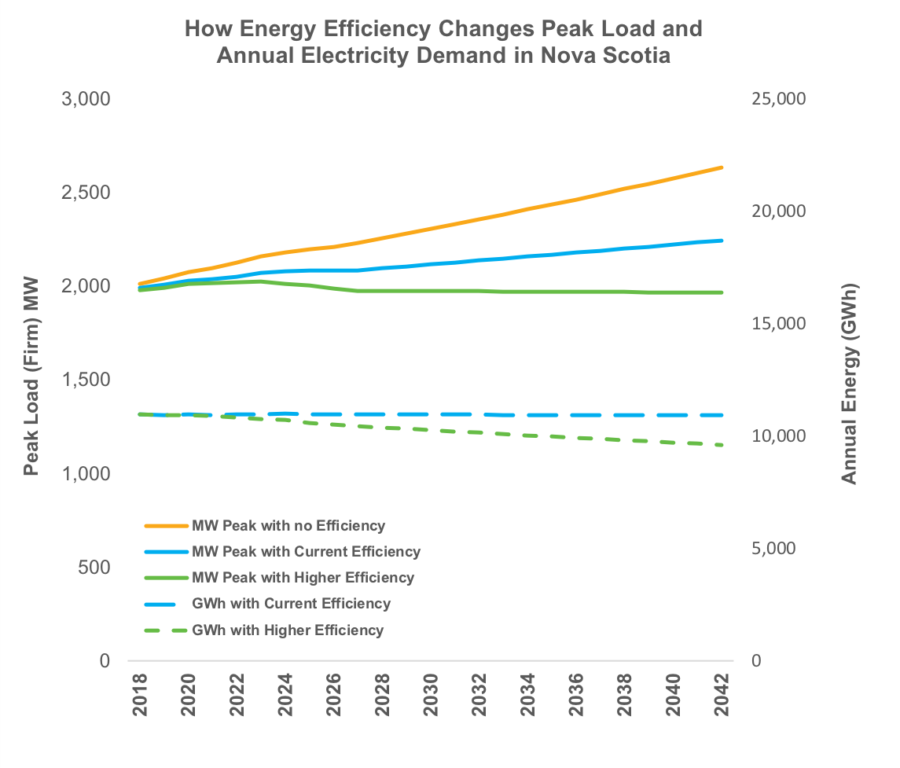 Nova Scotia's achievement of cost-effective energy savings have been held back in recent years by government mandated budget caps. The government imposed spending limits on efficiency far below its cost-effective potential for 2015 and 2019. It is time to review this policy of stifling efficiency investments or else all Nova Scotians could be forced to pay the costs of a more expensive power plant quite soon.
Furthermore, these energy savings create positive impacts beyond the electricity system. Efficiency Canada's recent study modelled the impact of reaching 2.5% annual electricity savings in Nova Scotia and estimated an annual average boost in GDP of $0.2 billion and 1500 new jobs between 2017 and 2030.
This new analysis shows why energy efficiency must be considered a resource in electricity system planning. Without efficiency, consumers will end up paying more for unneeded fossil fuel infrastructure.
Full Disclosure: Brendan Haley played a key role in advocating for the creation of Efficiency Nova Scotia and recently finished his term on the organization's Board of Directors.