What you need to know about the new building codes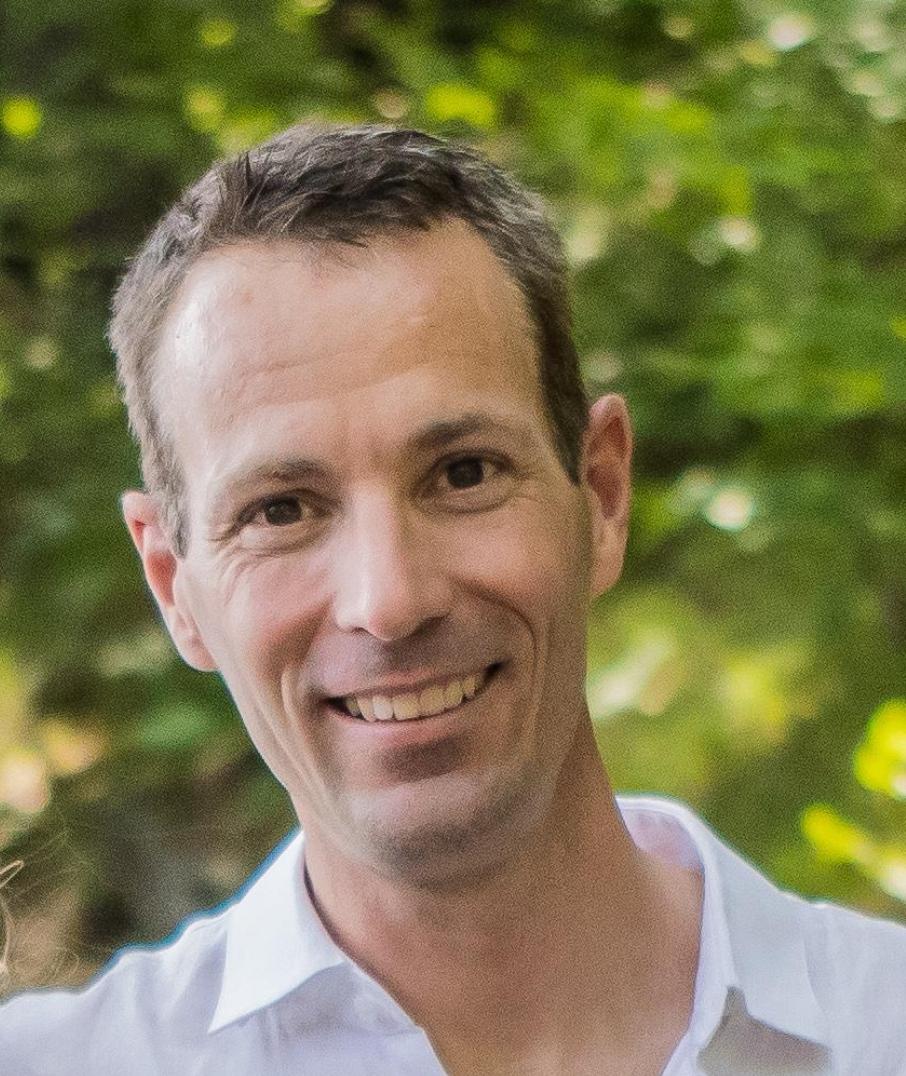 KEVIN LOCKHART
EFFICIENT BUILDINGS LEAD
EFFICIENCY CANADA
Kevin's interest in energy efficiency began while working as a carpenter and Advanced Housing Instructor at Algonquin College. His passion for improving our built environment and a desire to promote efficient building practices led Kevin to Carleton University where he completed his Master's in Sustainable Energy Policy.
Canada's building sector accounts for about a quarter of final energy demand and a fifth of our energy-related carbon emissions, and building codes are a low-hanging fruit opportunity to reduce or eliminate energy waste and associated emissions in our built environment. 
AN INNOVATIVE APPROACH TO BUILDING CODES
In Canada, the National Energy Code for Buildings (NECB), which applies to Part 3 or commercial and institutional buildings, and the National Building Code (NBC), Section 9.36, which applies to Part 9 or small buildings and houses, are key components of the model code system that define the minimum energy efficiency requirements for the construction of new buildings. NECB 2020 and NBC 2020, are now in the final stages of their 2015-2020 development cycle.
Past iterations of the model code have incrementally raised the default minimum standard to which buildings can be built in Canada. However, in 2016 the Pan-Canadian Framework on Clean Growth and Climate Change (PCF) committed to a net-zero energy ready (NZER) model building code by 2030. In doing so, the PCF defined a new future for Canada's built environment that enables the buildings sector to embrace highly energy efficient building practices that will help promote further innovation.
In 2016, with the support of the provinces and territories, the CCBFC developed its Long-Term Strategy for Developing and Implementing More Ambitious Energy Codes. The purpose is to set the direction of energy codes for new and existing buildings, developed through the CCBFC and with the support of Natural Resources Canada for new and existing buildings.
The Standing Committee on Energy Efficiency (SC-EE) has been working intensely throughout the past couple of years to develop a tiered energy code that progresses to a NZER level of energy efficiency. The tiered energy code provides a flexible framework for the provinces and territories while leading the entire country to an ultimate NZER performance target.
The current iteration of the model code is well-positioned to play a key role in helping improve Canada's built environment, reduce energy use and greenhouse gas emissions, while also putting Canadians to work in the clean-energy sector. But before these model codes can be completed and passed to the provinces for adoption there is a final opportunity to comment on proposed changes to the National Energy Code for Buildings 2017 and National Building Code 2015.
Net Zero Energy (NZE) is a building that uses an enhanced building envelope, solar orientation and high-efficiency equipment to produce as much clean energy as it uses over the course of a year.
Net Zero Energy Ready (NZER) is a highly energy efficient building that minimizes energy use such that on-site or community renewables or energy from a clean grid can be used to reach NZE.
Below is an overview of the top three things those interested in the energy efficient buildings sector need to know to contribute their feedback to the model codes public review running from January 13 to March 13, 2020.
A NATIONAL MODEL FOR A TIERED CODE HAS ARRIVED
Tiered codes are not new to Canada, BC introduced its Step Code in 2017. A tiered code is simply an incremental approach to achieving more energy-efficient buildings. It is a series of steps that start with a base building code. Each successive step goes further towards a NZER building.
Generally, the lower tiers are relatively straightforward to meet. The Upper Steps are more ambitious and offer an opportunity to adopt a more integrated approach to building design that incorporate changes in building design, layout, framing techniques, system selection and materials.
Figure 1. BC Step Code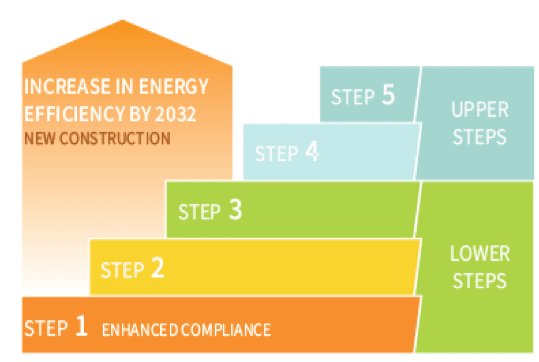 A tiered code has the benefit of raising the floor of building standards and practices and ensuring that all industry is competing on the same terms. While this component of the tiered code pushes those interested in only building to the minimum standard incrementally upward, it also has the effect of pulling ambitious builders and designers towards higher performance building practices.
With a tiered code, authorities having jurisdiction (AHJ) – the provinces, territories and cities with jurisdiction over construction – have greater flexibility in how they implement the building code. This aspect of the tiered code is particularly valuable for two reasons. First, the tiered code eliminates the need for AHJs to develop their own unique building codes to pursue their energy efficiency objectives. Second, municipalities looking to implement aggressive energy efficiency and carbon reduction strategies can easily choose a tier that aligns with the knowledge and capacity of their community from the well-defined upper levels of the model code.
Below is an overview of what is included in the proposed tiers for each model code.
Overview: Proposed Tiers of the 2020 National Energy Code for Buildings (NECB)
The NECB is made up of 4 progressive tiers.
Tiered energy requirements are voluntary until adopted by AHJs.
Minimum Tier 1 requirements are equal to the prescriptive provisions of NECB 2020.
Progressive Tiers improve efficiency levels and lead to a top tier equivalent to NZER.
Tier 2-4 energy performance levels can be reached using current technology.
Tier 4 targets generally meet or exceed ASHRAE targets for NZER.
Code compliance is based on relative performance or prescriptive criteria (i.e. a "reference building").
Overview: Proposed Tiers of the 2020 National Building Code (NBC)
NBC moves towards being performance-based with 5 tiers, however, there is also a prescriptive path based on 4 tiers
Tiered energy requirements are voluntary until adopted by AHJs.
Tier 1 requirements are generally equal to those of Section 9.36. of the NBC 2015.
Tiers 2-5 can be considered to follow voluntary programs of ENERGY STAR, R2000, and CHBA's Net-Zero Energy Ready.
Tiers 1-4 can be achieved using technologies and practices available to the market.
It may be possible for innovative builders to reach Tier 5 using current building practices although this tier will be more difficult to reach for homes in colder climate zones and/or those heated with natural gas.
Section 9.36.5. is to be aligned with the EnerGuide Rating System (ERS) to enable performance-based codes, home energy labeling, and housing energy programs.
THE MODEL CODES ARE PERFORMANCE-BASED… MOSTLY
The proposed tiers are performance-based for Part 3. Part 9, on the other hand, will have performance-based tiers (tiers 1-5) and prescriptive-based tiers (tiers 1-4). Performance targets focus on the modelled result of the building process rather than take a prescriptive approach that describes the way a building must be constructed. Performance-based codes can be based on an absolute energy target or a reference building target.
Unlike the B.C. Step Code when it first rolled out, the national model codes take the reference approach rather than an absolute energy performance target. A reference building is a hypothetical replica of the proposed building but built to a reference standard (e.g. ASHRAE) or code (e.g. NECB 2020 or Section 9.36). This hypothetical building shares all the same features and attributes of the building that is under consideration. This includes the same energy sources and uses, the same environmental requirements, number of people that occupy the building and how they use it, climatic data and how the building is operated.
The reference building is used in place of an energy intensity measure (e.g Thermal Energy Demand Intensity (TEDI), the annual heat loss from a building's envelope and ventilation after accounting for all passive heat gains and losses). A TEDI target can help drive long-term energy efficient improvements because it ensures that building designers focus on incorporating passive design features that minimize a building's demand for energy before considering adding on renewable energy. However, a reference house performance target is a pragmatic choice that allows builders and designers to continue to build the types of building forms, including the shapes and features, to which they are already accustomed.
The NRC provides the following example of how a reference building's performance is measured relative to the energy performance of the proposed building.
Table 1: Comparison between reference and proposed buildings[1]
Proposed building modeled annual energy consumption (150 GJ)

Reference building modeled building energy target (200 GJ)

0.75 or 75% of energy used
Amount of energy consumed by proposed building vs reference
25% less
The NEBC is strictly a performance-based code with four tiers.
The NBC includes a performance path of five tiers as well as a four-tier prescriptive path. The prescriptive path offers builders and designers a system like the ENERGY STAR for New Homes program. There are points awarded for energy conservation measures that can be added up to achieve compliance with a specific tier. For the time being, the prescriptive path measures have only been identified for tiers one and two which the NRC reports could be achieved in most climate zones simply through building envelope measures. The prescriptive path for tiers 3 and 4 should be available for 2025, if not earlier.
 Proposed NECB Energy Performance Tiers
| | |
| --- | --- |
| Tier | Overall Energy Performance Improvement of Proposed Building Compared to Reference Energy Building |
| 1 | NECB 2020 |
| 2 | 25% better |
| 3 | 50% better |
| 4 | 60% better |
 Proposed NBC Prescriptive Energy Performance Tiers
| | | |
| --- | --- | --- |
| Tier | Overall Energy Performance Improvement relative to the reference building (Section 9.36.2.-9.36.4) | Energy Conservation Points |
| 1 | ≥ 0% (compliance with 9.36.2. to 9.36.4.) | – |
| 2 | 10% | 10 |
| 3 | 20% | Reserved |
| 4 | 40% | Reserved |
AIR TIGHTNESS BECOMES A STANDARD FEATURE
Heating and cooling spaces accounts for most of the energy used in buildings and this energy is most commonly lost through air leakage. Air leakage is generally the result of small gaps in building assemblies and in the various penetrations in the building envelope. Minimizing heat loss due to air leakage through building envelope can significantly reduce the heating energy needed for the building. The result is major energy savings through smaller, more efficient mechanical systems.
Identifying air leakage is best accomplished by testing the whole building air tightness. NECB 2017 did not specify the level of air tightness or how the leakage of the air barrier system of the building was to be tested. Without a test procedure and minimum performance value for whole building air tightness AHJs were unable to put in place a standard way of verifying compliance. Proposed changes to NECB 2020 resolves this by introducing a testing procedure and performance value for whole building air tightness. The NECB acknowledges that the building envelope must be carefully constructed to avoid air leakage that commonly occurs in the connections of various assemblies and components.
In one of the most important pieces introduced in this code cycle, NBC 2020 proposes a requirement for airtightness testing for all the tiers of the performance path. There is not specific target for airtightness at Tier 1, rather this is an effort towards encouraging capacity building and better training in building sector related to measuring the energy performance of buildings. At all tiers, air leakage rates are provided in various metrics such as air changes per hour (ACH), normalized leakage area (NLA) and normalized flow rate (NLR). This offers the building community with greater flexibility to use a metric that is appropriate for the type and size of their particular building, a detached house versus a multi-unit residential building (MURB) for example.
NEXT STEPS
Building codes impact a significant proportion of energy use in buildings and, as such, they are the quickest, cheapest and cleanest way to improve energy efficiency in the building sector and a key contributor in Canada's transition to a low-carbon future.
Building codes matter. Particularly for those interested in developing high-value local jobs, contributing to social equity through better housing, supporting climate action or simply enjoying comfortable homes and buildings that are less drafty, more resilient and last longer.
The proposed changes to the NBC 2015 and NECB 2017 are currently in a public review period intended to provide code users and the buildings sector with a detailed look at the proposed technical changes. Your participation in the process is needed to let the codes community, and government and elected officials know that you support stronger building codes and that you want to see the model codes adopted by your province, a key metric tracked in our Efficiency Canada Scorecard.
The public review closes on March 13th, 2020 and we urge you to comment on each proposed technical change and provide feedback as to whether these changes should be approved, altered, or rejected. All comment submitted are reviewed by the relevant committees of the CCBFC who will decide to either:
withdraw the proposed change;
recommend that it be reviewed further for possible re-submission in revised form in a future public review; or
recommend that it be approved by the CCBFC, with or without modification.
If approved by the CCBFC, the technical changes will be published in the 2020 editions of Codes Canada publications. Each province and territory will then have the option to adopt the model codes and step towards a common goal of harmonization of building codes that contribute to a stronger buildings sector and help it prepare for a shift to high performance buildings.